Leading wedding planning agency, Tamarind Global planned and managed this stunning Sangeet at The from April 26 to 29, 2017.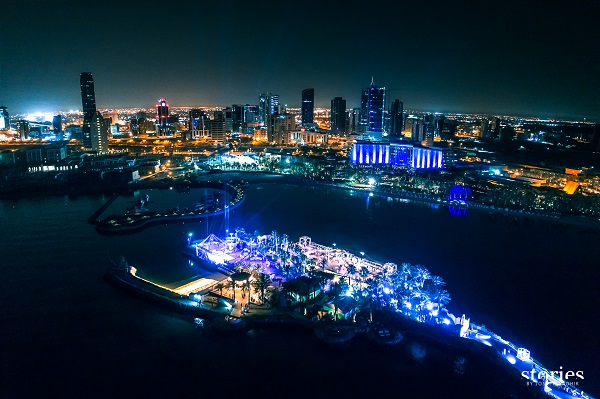 Ali Bakhtiar Designs, Dubai was responsible for overall Event Design while Planning, Management, and Hospitality was among the responsibilities of Tamarind Global.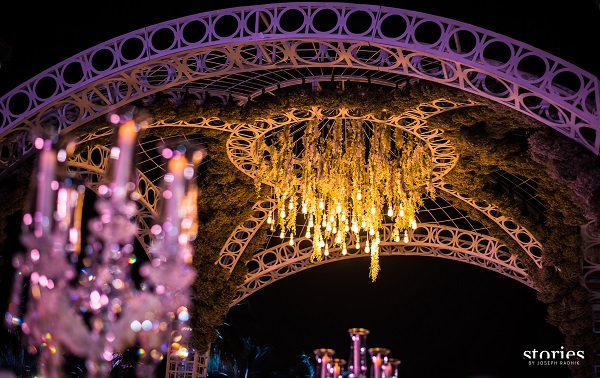 The glamorous and elegant Sangeet night at the Ritz Carlton Island started at dusk and went on till dawn. Photography was handled by Stories By Joseph Radhik as well as Reels And Frames while Catering was done by Foodlinks, Mumbai.
With a theme of whites and crystals, the beautiful island had 4 magnificent crystal clad pyramids of a 24-foot height enclosing the sophisticated white lounge seating.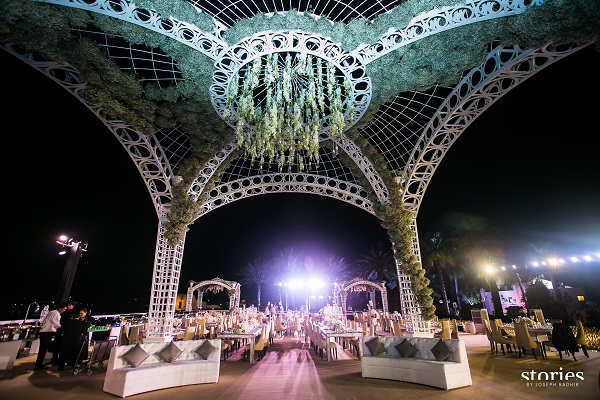 The walkway to the island was dotted with various experiential artists such as a steel percussionist, wind dancers, pixel poi and more, all leading to an exquisite art deco tunnel opening onto the island.
There was decking of 20,000 square feet with a stunning Venetian carousel bar lit up with life-sized horses.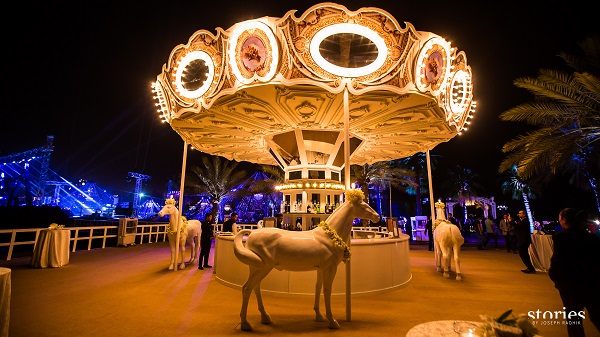 A lavish food spread was interspersed all around the island with elegant white round table seating. To cap the spirits, an exclusive Japanese and Scottish malt and cigar bar with vintage malts and Cubans adorned the shore of the island with a cosy chesterfield round seating. Special moulded ice cubes swirled in crystal tumblers.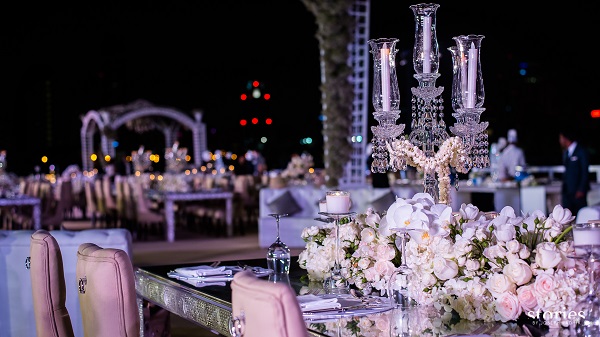 There was 1500 square feet of stage built over the water with an eye catching LED dance floor where singers Salim and Sulaiman entertained all the guests with a rocking performance.
Soufiane ElAllam, Executive Assistant Manager- Sales & Marketing, The Ritz-Carlton, Bahrain explains,  "It was a pleasure and an honour to host the Kingdom's first ever destination wedding from India on April 27 this year. The ceremony was a true fairytale that hosted over 1000 guests in our property sitting amidst lush gardens and overlooking the serene Manama Bay with breathtaking views of both the city and the sparkling turquoise waters of the Gulf."
While Kunal Rai, Head – Events and Weddings said, "Bahrain was awed by the scale and allure of this event. The islandwas truly transformed into a magical spectacle with a level of detailing that one does not come by often,"