Inspired by the pristine beauty of Hua Hin, the wedding of renowned Bollywood stylist Sonaakshi Raaj and restaurateur Nikhil Merani drew our minds right to the beachy vibes of the tranquil Thai province. From the tropical botanicals to the the underwater sanctuary of sea life, Sonaakshi Raaj's wedding exuded elegance and romance. Designed by India's leading luxury invitation brand, Puneet Gupta Invitations, the entire theme of the wedding was initiated with super dreamy and uber chic invitations!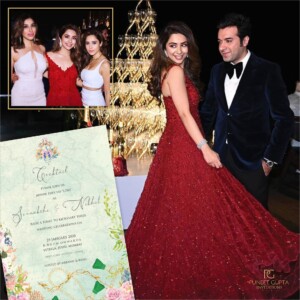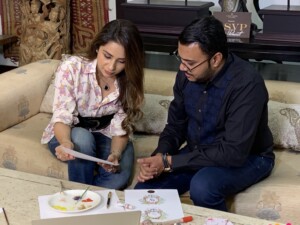 The visuals of the invitations revolved around a watercolor interpretation of the love between the couple and depicted two seahorses kissing as an exquisite cascade of peonies and corals bloomed around them. The flamingoes surrounding the sea horses represented the couple's family and friends; while the shells and starfish were added to reflect the serene beach destination. Sleek and sophisticated gold accents, hand-painted ferns and corals, and ornate legs attached to the invitation-boxes immediately transported our minds to the serene beaches of Hua Hin. The inside of the box featured an outline of the map of Thailand, as the actual invite sat beautifully upon plush suede-lined interiors.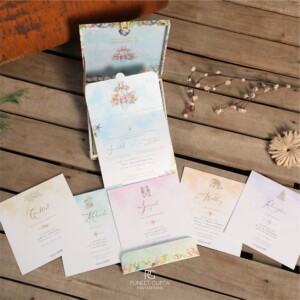 The hand-painted invitations were crafted using a distinctive technique wherein three-dimensional paper layering was employed to make the florals and shells look lifelike. Initially opening to the seven vows of the wedding, the invitation finally revealed the details of the events. Each invitation was further accompanied by a box of chocolates and a personalized ribbon with the bride and groom's name upon it. The final touches were added by enclosing the completed set into white pearl-finished bags with gold embossed insignias.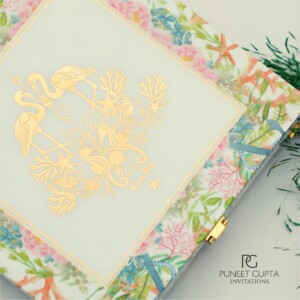 In addition to the physical invitations, Puneet Gupta Invitations also designed the digital invites, luggage tags, and hampers, to keep with the overall theme of the wedding.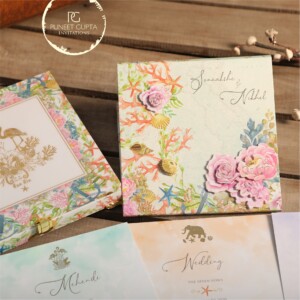 With Puneet Gupta delivering luxury and beaches all in one go, we look forward to seeing what else the designer has to offer!