Food puns aside, we do hope you got to participate in WedEd's awesome new series: Knowledge Flix.
WedEd is an initiative that offers young minds insights about weddings as a career and various other opportunities within the wedding industry. Started by founders of two wedding schools at the top of their game, Mareesha Parikh from The Wedding School and Vijay Arora from Touchwood Wedding School, WedEd's initiative is truly revolutionary during these unprecedented times. The series aims at teaching young talent about the industry and giving them a direction to head in.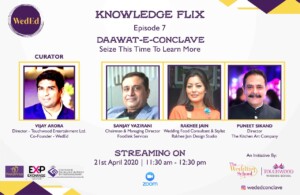 The 7th episode of the series went live on the 21st of April. The panelists included:
SANJAY VAZIRANI, Chairman and Managing Director, Foodlink Services
RAKHEE JAIN, Wedding Food Consultant & Stylist, Rakhee Jain Design Studio
PUNEET SIKAND, Director, The Kitchen Art Company
The episode was curated by Vijay Arora, Director, Touchwood Entertainment Ltd & Co-Founder, WedEd.
Focused on the luxury catering, banquets business, and foos styling aspect of the wedding industry, the panelists shared their own experiences within the industry. Daawat-E-Conclave helped participants gain insights into the food aspect of big, fat, Indian weddings- arguably, the most important aspect factor in a desi wedding.
Rakhee Jain, a pro at food styling stated, "It's simple – the difference between something good and something memorable lies in its detailing," while Sanjay Vazirani added, "Creating dining experiences, new concepts and culinary experiences is the future of wedding food industry." Truly wise words from truly wise food professionals, all at the top of their game.
In addition, the panelists discussed the importance of factors such as refrigeration. hygienic food logistics, sanitized kitchens, groomed chefs, etc. An important part of the discussion revolved around understanding menus, coordinating with the wedding décor, collaborating with the chef, preparing transport facilities, garnishing, design elements, and the like.
Essentially, the panelists bought to the fore that clients don't just seek food, but instead, food experiences. They further advised their team member, colleagues, and industry mates to upscale themselves during the lockdown.
Knowledge Flix by WedEd is a ten-episode series that will culminate on the 30th of April. The next episode, CREATING CREATIVITY – launches on the 23RD of April AT 11:30 AM on the Zoom App.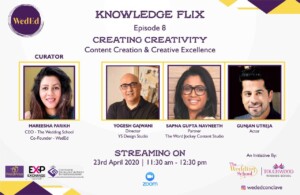 STAY TUNED!
With bucket-loads of exposure and experience in the wedding industry to look forward to, the initiative is unprecedented and unique in its approach.
Head on over to the WedEd Instagram page (CLICK ME!) to register and tune in to the EIGHTH EPISODE AT 11:30 AM on 23RD April.  For registration, checkout the link in the instagram bio of @wededconclave. From discussing various career opportunities in events and entertainment to honing special skill sets, it's all here! ALSO, a counselling session for aspirants and students will be held on the 1st of May 2020 by both The Wedding School and The Touchwood Wedding School with spokespersons Mareesha Parikh and Vijay Arora.