With emailing and text messaging ruling the world of communication and correspondence, there's always a personal and somewhat meaningful touch attached to receiving a formally addressed piece of mail. This especially holds true for invitations. An invitation is often the first glimpse guests receive into the style and thought put into an event's décor.
This emotion is taken very seriously over at Ravish Kapoor Innovative Invitations. An expert at designing invitations cards for any occasion, Ravish Kapoor ensures all invites are customized and personalized. Known globally for his exquisite taste in colors and eclectic choice of design and orientation, Ravish consistently wows his clients. Ravish's, designs have inspired many in the industry with the latest trends, style of warmth and elaborate workmanship that goes into each piece he produces.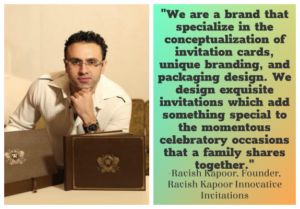 Here's a look at 5 absolutely gorgeous invitations created by the ace designer…
The Sonam Kapoor and Anand Ahuja Wedding Invitation
Sonam Kapoor Anand Ahuja were very specific about their requirements. The event décor was going to be all about botanical flowers and trees and so, 18th century botanical prints used in decorative art in Parisian museums were used for inspiration. A celadon green with a light wash of the ocean, which represented Mumbai, were chosen for the color palette. Each function had a specific tree embodying it and plumeria was the dominant flower used in the mehndi and the collaterals. Each frame was hand-painted and further fine-tuned using computer software.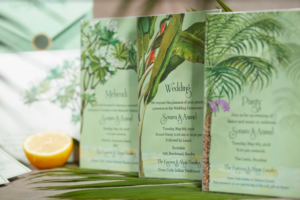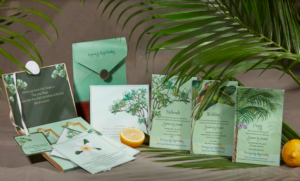 The Musical Invite
The design house recently put out an invite shaped like a Japanese fan wheel opening from the center. Once opened, a couple spinning in the middle is visible, along with beautiful music playing in the background, with a card accompanying it. Seeing a demand for an invite which can be held onto as a souvenir, the designer decided to add an interesting twist with the music playing every time the invite was opened.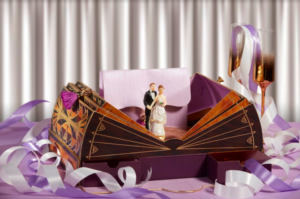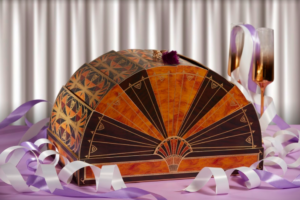 The Vintage Invite
This invite is an intricate detailed laser-cut traditional box with 3D Mughal painting and a vintage photo album book style invite that takes you back to the golden era! Undoubtedly an exclusive wedding invite for a royal bride & groom!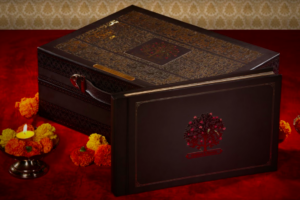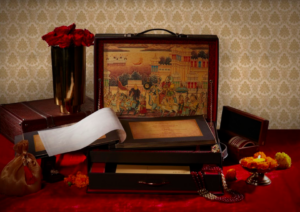 The Radha Krishna Invite
A stunning 3D Radha Krishna photo frame invite where the box top itself becomes the gift as guest can hold on to it and use it later as a photo frame.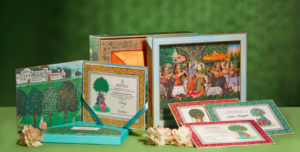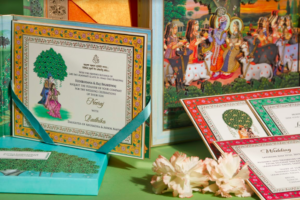 The Hand-Painted Orchids
These invites were designed using various flowers like lotus, rose, orchids, marigolds, and tulip patterns in mind. The designers incorporated vintage exotic English flowers, contemporary trees of life, different types of orchids, and the like by either hand painting each insert or using different print techniques such as foil stamping, dual layer leafing, or embossing as enhancements.