One of India's most respected wedding professionals and industry stalwart Rituraj Khanna and EXP Exchange, announced partnership to launch 'Discover Designers'- an unprecedented platform for all things design in the luxury weddings ecosystem of India.
The initiative aims to bring to the fore and celebrate the new age and upcoming professionals in all streams of design work in the big fat Indian wedding business – these include wedding decor designers, F&B designers, entertainment designers, invitation designers, ambient decor designers, light & sound designers, wedding trousseau designers,  floral decor designers and a lot more.
"India's wedding market is the second largest in the world after the US, estimated to be a staggering $50 billion in size. And, today while we have industry platforms for wedding professionals in general, I for long have believed that our industry needed an initiative that was solely focused on wedding designing and gave upcoming designers a platform to showcase their work, network, pitch and learn from the best in the luxury weddings business. As someone who's been in the business for so long – I felt I owe it to the young guns and newer creative businesses in the industry to give them a chance to showcase what 'new' they bring to the table" – shares Rituraj Khanna, CEO, Q Events by Geeta Samuel.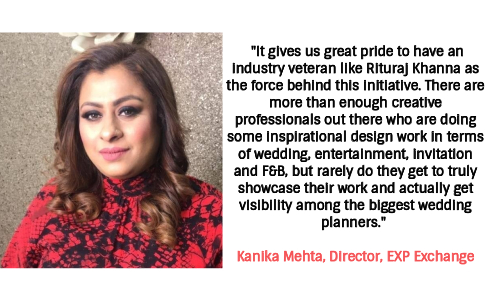 "Discover Designers with Rituraj Khanna is one of the most ambitious projects by us at EXP Exchange and we're very proud to be the ones creating opportunities for all designers in this space. It gives us great pride to have an industry veteran like Rituraj Khanna as the force behind this initiative. There are more than enough creative professionals out there who are doing some inspirational design work in terms of wedding, entertainment, invitation and F&B, but rarely do they get to truly showcase their work and actually get visibility among the biggest wedding planners. With Discover Designers we're taking a step in that direction and I call all designers from various facets of the business to come and join us in this initiative."
To know more about Discover Designers, contact + 9810018658 or + 9990881440.