Everyone wants to personalize their weddings to tell a story or match their theme, and what better way than to choose a flawless color palette? The perfect color can be worked into the décor, the flowers, the food, the stationery, the outfits- you name it! Furthermore, this is the right time to plan, because let's face it, what else are you going to do?
So why not keep with the times and stick to some great color combinations? Planning a wedding and not being able to choose colors? We're here to help!
For couples pining for something beyond the norm, here's 8 color palettes to spruce up your 2020 wedding:
1. Coral and White
Minimalist couples absolutely adore this distinctive spin on an all-white affair! The dash of blush-toned shades adds to the romance without hindering the sleekness of white décor.
2. Pastels and Yellow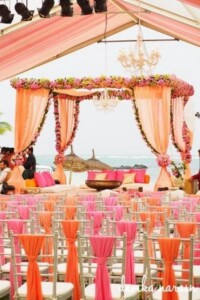 Via: HappyWedd
Why choose one light, soft, and calming shade when you can have five? Also, a dash of bright, sunshine-y yellow amongst subtle and soft pastels creates a charming and romantic setting. With your mind drawn to yummy sorbets with these gorgeous shades, what could possibly go wrong?
3. Gold and Black
Via: Gal Couture
Why mess with classics? While black screams elegance, gold brings the much-needed bling that every Indian wedding is incomplete without.
4. Burgundy and Plum
Via: Witty Vows
If you're on the lookout for a royal affair, some regal shades of burgundy and plum will make all your majestic and grandiose dreams come true. So drink in these juicy hues and get ready for your dapper event.
5. Dusty Rose and Lavender
Via: Urban Clap
Calming hues of rose and lavender come together to create this gentle and soothing palette. This palette is designed for couples looking keep their special day refined, tasteful, and classy, with just the right amount of pizzazz.
6. Cobalt and Silver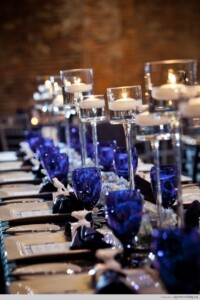 Via: Dandie Andie Floral Designs
This striking combo is perfect to reflect the glitz and glam of an Indian wedding and is designed exclusively for the couples looking to "bring it" on their special day. A deep and rich palette, these colors are bound to spruce up your décor.
7. Saffron and Fuchsia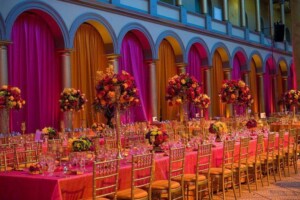 Via: Blessedecor
After a long, colorless winter, all we do is yearn for warmth and color. Any couple craving some jubilant and festive shades for their weddings, the palette was curated for you!
8. Peach and Blue
Via: hatkay.com
Blue is a color most often associated with profoundness and stability. Peach harbors an atmosphere of tenderness, harmony, and femininity, making you wedding a warm and heartfelt affair.
–
–
–
–
–
Featured image via: ShaadiKiDukaan