The mandap is one of the most crucial elements of wedding decorations in Hindu ceremonies. It is considered the 'sanctum sanctorum' of the wedding rituals, with only a select number of people like the bride, groom, their families, and the officiating priests allowed under its canopy.
For Hindus, the concept of a mandap came into existence because they believed that any sacred ritual had to be done within the four walls of their homes, which was considered a sign of prosperity in ancient times.
However, today mandaps are the center of wedding décor. So, we decided to feature a few that completely won our hearts over! Here's a look…
1. RED LETTER DAYS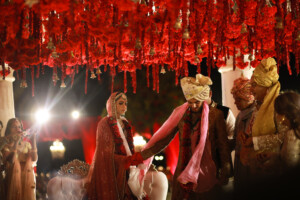 Via: Yolo Entertainment & Weddings
Choosing the traditional wedding red, this couple zeroed in on all-scarlet hues and kept it simple yet absolutely gorgeous!
2. BEACHY VIBES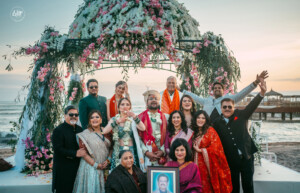 Via: Chapter 2 Events
What's better than a wedding right by the beach? A mandap as stunning as this one right on the water, obviously! SWOON!
3. FLORAL DREAMS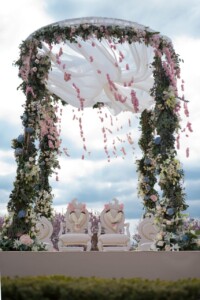 Via: Panodrama Events
These days, floral mandaps are chosen by couples wanting to keep it elegant. Adding a dash of pink adds to the the soft and elegant vibes. This floral dome is truly stunning!
4. INTO THE SUNSET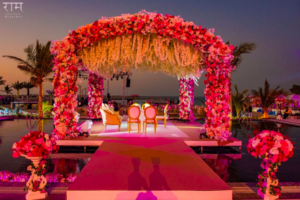 Via: Yolo Entertainment & Weddings
Foliage and sunsets! Surely, a sight for sore eyes. With palm trees in the background and the sun setting in the distance, this is an absolutely beautiful mandap curated especially for evening weddings!
5. SWIMMING IN JOY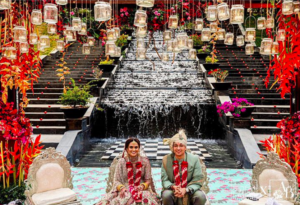 Via: Abhinav Bhagat Events
With the water falling gently in the background, we found ourselves falling gently in love with this mandap! PUN INTENDED!
6. UNDER THE STARRY SKIES
Via: RashiNidhi Events
This somewhat traditional and utterly sophisticated mandap took the cake! *Insert A MILLION heart eyes emoji RIGHT HERE*
7. KEEPING IT CLASSY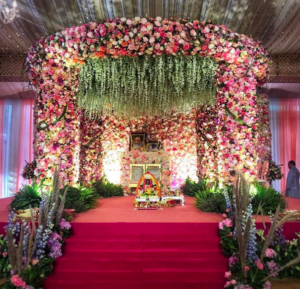 Via: The Wedding Design Company
Florals, indoors, pink hues, and foliage- need I say more? But seriously, what an absolutely striking mandap!
8. INTO THE WOODS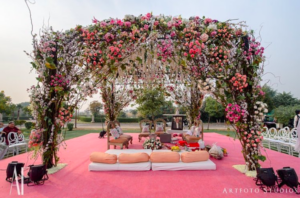 Via: Panodrama Events
And last but not least, this stunner surely created wedding fever for even those who chose to "casually glance" at this article! Well, we're sorry, but it had to be done!