Hinduism is perhaps the oldest continuing religion in the world, with holy texts being dated back to 3000 B.C. The traditions associated with the religions have lasted over millennia, despite origins being lost in time.
A Hindu wedding is considered a sacred rite, one which incorporates countless of the aforementioned rituals and traditions. Today, these ceremonies are performed on the days leading up to the wedding. The Hindu ceremony centers not just the bride, but celebrates the unification of two families.
So, what are these traditions and rituals, and why are they performed? Well, look no further, for we're here to tell you all about it!
1. GANESH POOJA
Some Hindu ceremonies begin with a prayer to Lord Ganesh, The Hindu god of wisdom and salvation. By invoking the lord, it is believed that he removes any obstacles from the wedding ceremony. The ceremony is subsequently performed 'without hindrances.'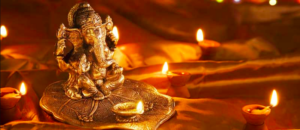 Via: marriage.com
2. BARAAT
The baraat is a wedding procession that is practiced by the family of the groom on the day. Despite not having a great religious significance, evert Hindu wedding is incomplete without a baraat. The custom involves the groom travelling from his home to the venue of the wedding on horseback, surrounded by hid friends and family, the ladkewaale, aoften with song and dance to celebrate his big day.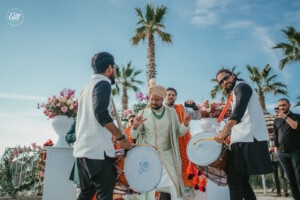 Via: Chapter 2 Events
3. KANYADAN
The bride is often led to the mandap by a male member of the family, where the groom waits her arrival along with her parents. The bride's parents offer their daughter in marriage in a ceremonial manner. The feet of the bride and groom are bathed in milk as a way of purifying them in preparation for their life of togetherness.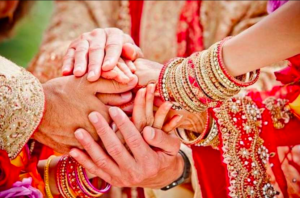 Via: Patrika
4. HALDI CEREMONY
The haldi ceremony, also called pithi, is a ritual holy bath, which is a well-known pre-wedding ceremony in Hindu culture. Turmeric, oil, and water are applied to both the bride and groom by friends and family on the morning of the wedding. The mixture, which is known for its medicinal properties, is also believed to bless the couple before the wedding.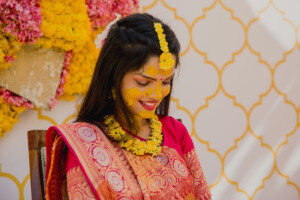 Via: Prasang Events
5. JAI MALA
After the bride is escorted to the mandap, the bride and groom exchange floral garlands with one another. They place the garlands around each other's necks to symbolize their acceptance of the union.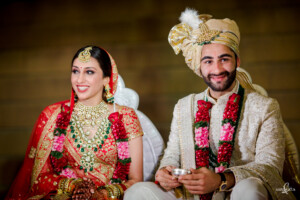 Via: Milestones to Memories
6. THE MANGAL PHERAS
After the kanyadaan ceremony, the couple perform the mangal pheras. They join hands and circle the central agni four to seven times. Each phera symbolizes their duty to one another, family and God, prosperity, energy, passion, and finally, salvation.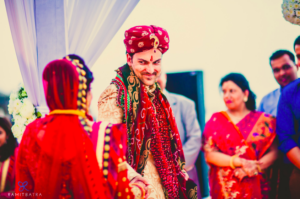 Via: Ramit Batra
Regardless of the custom, religion, or country, weddings are essentially just a celebration of love and commitment.