"A creative idea will be defined simply as one that is both novel and useful (or influential) in a particular social setting."
– Alice Flaherty, The Midnight Disease (2004)
WedEd is an initiative that offers young minds insights about weddings as a career and various other opportunities within the wedding industry. Started by founders of two wedding schools at the top of their game, Mareesha Parikh from The Wedding School and Vijay Arora from Touchwood Wedding School, WedEd's initiative is truly revolutionary during these unprecedented times. The series aims at teaching young talent about the industry and giving them a direction to head in.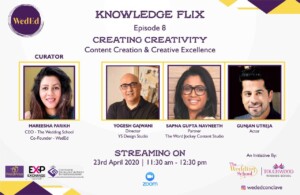 The 8th episode of the series went live on the 23rd of April. The panelists included:
YOGESH GAJWANI, Director, YS Design Studio
SAPNA GUPTA NAVNEETH, Partner, The World Jockey Content Studio
GUNJAN UTREJA, Actor
The episode was curated by Mareesha Parikh, CEO, The Wedding School & Co-Founder, WedEd.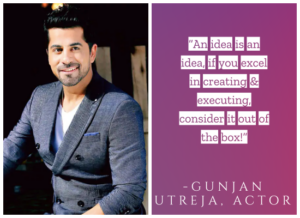 Creativity is one of the most important characteristics of being human. It is one of the main traits that make us successful as individuals and as a species. Learning how to think more creatively will benefit you the rest of your career. And, macroeconomic trends suggest creativity will only become more important moving forward. The three panelists further added merit to the same.
They started by discussing situations wherein briefs might be unclear, or one might go overboard with creativity. Through their own experience, they advised viewers to never stop trying, even if the fear of failing looms over their head. In addition, they advised viewers to carry out methodical and in-depth research and take notes, be inspired, ask for feedback & constructive criticism, and never shy away from innovative ideas.
Yogesh Gajwani extensively discussed the philosophy of never repeating an idea. He discussed how it would be easy money, but it was a matter of principle. He elaborated on how finicky he was with his own work and never settled for anything less than the best by saying, "Don't settle for second best, don't become a replica of anyone, keep changing, keep thinking, keep innovating, think of everyday as new day."
Lastly, they discussed gig economies, and further instated the need for collaboration, which is an important factor in today's day and age. Sapna stated, "Look at collaboration as an extended family and not an alien agency. Don't restrict yourself from taking ideas from people you think know best, sometimes the most unexpected people stun you with ideas. Don't recycle your old ideas, even if you think of an idea you used in the past don't replicate it, let it inspire you."
Gunjan Utreja added, "Keep challenging your self, keep innovating, and try to basic things differently. It makes a difference.  I was far more creative when I  didn't have access to the internet & international cinema or TV to inspire me. I had to exercise my brain to think! Now it's easy for me, yet I'm less innovative than that time despite having access to so many resources."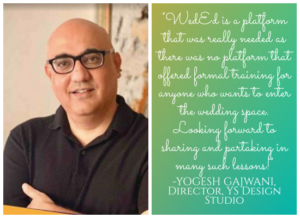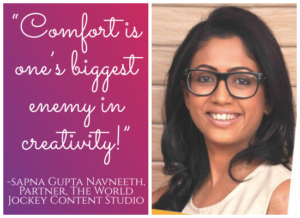 Knowledge Flix by WedEd is a ten-episode series that will culminate on the 30th of April. The next episode, INDIA'S GOT TALENT – launches on the 25th of April AT 11:30 AM on the Zoom App.
STAY TUNED!
With bucket-loads of exposure and experience in the wedding industry to look forward to, the initiative is unprecedented and unique in its approach.
Head on over to the WedEd Instagram page (CLICK ME!) to register and tune in to the NINTH EPISODE AT 11:30 AM on 25th April.  For registration, checkout the link in the instagram bio of @wededconclave. From discussing various career opportunities in events and entertainment to honing special skill sets, it's all here! ALSO, a counselling session for aspirants and students will be held on the 1st of May 2020 by both The Wedding School and The Touchwood Wedding School with spokespersons Mareesha Parikh and Vijay Arora.