London-based designer, curator, and multidisciplinary stylist, Rakhee Jain has been artistic and design-driven from the get-go. Her passion and drive led her to carve a niche for herself within the culinary space- a niche we like to call food consultancy and curation. Now, before you ask, food consultants are independent advisors who give professional advice to clients about aspects regarding the culinary industry. But Jain's passions for food, travel, and fashion, all helped her create her one-of-a-kind aesthetic, and thus was born the Rakhee Jain Design Studio. Her gorgeous work was put on display recently, when she styled food for a wedding with the Anand Rathi Group.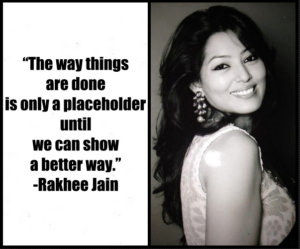 The Anand Rathi Group initially approached Jain for just her renowned food presentation skills, but she ended up doing a bit more. While delving deeper into the conversation, she realized there were no food consultants working within the Indian wedding industry whom clients could hire for advice about the process of curating the most fitting dining experience.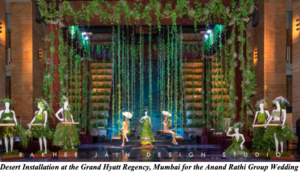 Seeing this absence, Jain decided to hop on board as the official F&B consultant and combined her knowledge and years of experience to enhance their culinary journey. Jain and her team advised the clients throughout the process- from choosing the caterer to planning succinct menus, from designing eclectic dining layouts to coming up with innovative dining concepts, from outsourcing specialized chefs to creating pop up restaurants and ensuring each meal was unforgettable- the Jain team took care of every little detail.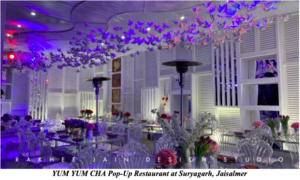 With Seven Steps helping with production and design, Jain and her team orchestrated the dining experience for the entire wedding. The welcome lunch, the vidaai, and the enchanted garden reception in Mumbai, which included a spectacular dessert experience- Rakhee Jain Design Studios was behind it all.
Food is an experience, and Jain ensures it's an exquisite one. Each food experience should be better than the last, and as she says, "The way things are done is only a placeholder until we can show a better way."