Luxury Suppliers
Wedding Planners: Riwaaz-e-Rishte
Venues: The Oberoi, Gurgaon; The Trident, Gurgaon
Décor: The Design Company by Heena Arora, Nishchay Gandhi
Artists: Funky Boys, DJ Kilogram, Supriya Joshi
Catering: Varun Tulli
Bar: Clayton Gracias
Choreographers: Dance Era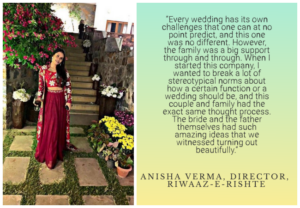 As we gradually return to business after months of getting accustomed to "the new normal," the mind seems to flit to memories of the recent past when the guest lists weren't limited, when masks weren't the primary décor, and most important, when the only thing in the air was LOVE! As we found ourselves thinking of these amazing days, we thought of bringing you on the ride as well!
In this feature of #ThrowbackWedding, our attention was caught by a rather lively and colorful event, with guests aplenty- a celebration to fit the "BIG, FAT INDIAN WEDDING" stereotype. Hosted over three days, and with an attendance of over 400 people, the wedding was truly one large gala.
Day 1 began with the mehndi function at the bride's residence. The décor consisted of distinct neon-themed ornamentation, with a carnival-themed sundowner to match. With quirky additions of a candy bar, popcorn stall, globe fortune-teller, and a selfie mirror, the start of the celebration was an event to remember. The planners even chose novelty candles as party favors to steer away from the "usual" presents. With a surprise "release of balloons," and a customized cocktail bar to add to the uniqueness of the evening, the events started with a bang.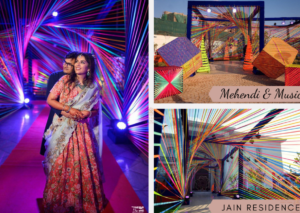 Shortly after, day 2 began with a Dilli-6 themed welcome lunch, hosted at the Oberoi, Gurgaon. With idiosyncratic décor like signs from Chandi Chowk, paratha waali gali, and such, the event extended on its trend of quirkiness from the night before. In addition, guests were also afforded the opportunity to ride in a rickshaw to and from the venue. Chana jor garama and papad thelas, along with bansuri valas and caricature artists added to the overall rustic vibe.
The planners zeroed in on a slightly glitzier theme for the evening by organizing an "IIFA themed" function for the sangeet.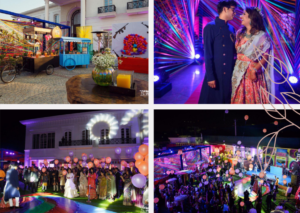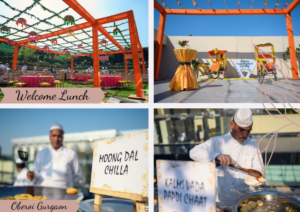 The haldi ceremony on day 3 took place on the Trident lawns in Gurgaon, with nagada players and Rajasthani dancers surrounding the venue to add to the magnificence. The guests enjoyed authentic Rajasthani food along with amusing Rajasthani pagdi's and mustaches at the photo booth- where each picture held a specially designed 'couple's logo' to commemorate the day.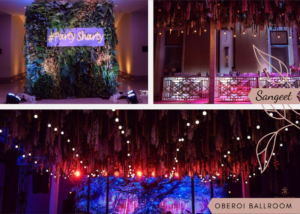 Finally came the wedding at the Trident Pavilion, the largest the hotel ever hosted. The planners stuck to a traditional vibe for this event, with rajnigandhas and candles all around.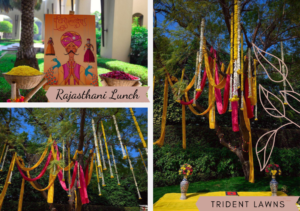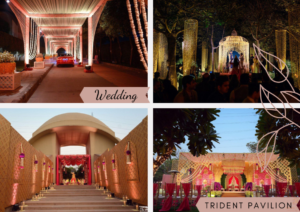 When asked about her experience planning the festivities, Anisha Verma, Director, Riwaaz-e-Rishte exclaimed, "Every wedding has its own challenges that one can at no point predict, and this one was no different. However, the family was a big support through and through. When I started this company, I wanted to break a lot of stereotypical norms about how a certain function or a wedding should be, and this couple and family had the exact same thought process. The bride and the father themselves had such amazing ideas that we witnessed turning out beautifully."