The robust, bustling Indian events and wedding industry, a $60 billion industry, is in the throes of a severe crisis as the COVID-19 pandemic forces events and wedding postponements all over the nation. Event and wedding professionals, hotels, caterers, and the like began seeing countless cancellations, almost at peak season….even massive initiatives like IIFA, Sunburn, Marathons, weddings, IPL have simply been brushed aside.
As people fear the worst, Rajeev Jain of Rashi Entertainment steps forward with words that offer relief to all those deep in the pits of worry. He firmly believes that the Indian events and wedding industry can expect an upcoming boom in business once the pandemic is over. And over at EXP Exchange, we know to trust him. As Anushka Sharma said in Band Baaja Baraat, "Recession ho ya inflation, shaadiyan toh honi hai," and with words of affirmation from Rajeev too, we're beginning to look forward to better times. Rajeev believes the first segment of the events industry that will bounce back is the wedding industry; the number of attendees will be reduced, the spend too may reduce but the weddings will go on.
Rajeev, the founder of a flourishing event management agency, Rashi Entertainment, laid out a well-planned strategy that outlines his predictions and insights for the future of the shaadi biz. Here's what he has to say…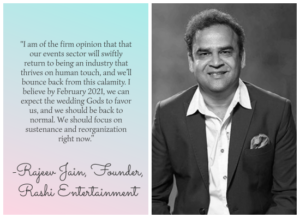 As the whole world struggles today, can you identify what precisely this industry is struggling with and how it can recover?
"Well, it's no secret that the whole world has been severely impacted by the pandemic and the consequent lockdowns. No matter how big the economy, or how profitable your business may be all will find themselves reeling. Every business- big or small- is affected. However, I believe that the events and wedding industry is affected more so, because we need human contact to survive- and that's essentially been made impossible.
While there in no instant solution, I am of the firm opinion that our events sector will swiftly return to being an industry that thrives on human touch, and we'll bounce back from this calamity. I believe by February 2021, we can expect the wedding Gods to favour us, and we should be back to normal. We should focus on sustenance and reorganization right now."
Why should the government support the wedding and events industry as businesses all around demand support?
"Sadly, we are not recognized as an 'industry' sector that has received the government's ear as of now. However, Finance Minister Nirmala Seetharaman did state, "All tenders below INR 200 cr. will be executed by Indian companies only," and I do believe that's an intelligent and well thought out decision. I think she had large infrastructure businesses in mind and it's going to contribute towards the growth of our economy. I do have a few modest recommendations though! I'm hoping that all events and projects organised and paid for by the government of India and the various state governments and public sector should be given only to Indian companies. Additionally, I recommend that the Central and State governments should provide resources to conduct public awareness, community and welfare events."
What should the Indian Wedding Industry expect in the future? Can the industry anticipate profits soon?
"You know, as a man who has spent over two decades in the Live Entertainment industry, I know that life goes on. Even though our industry is suffering right now, we should ready ourselves for a revival soon.
Domestic destinations will be heavily in demand for large events and weddings, which should give domestic companies several opportunities to use their skills. While profits might reduce, we certainly have the social events and celebrations to look forward to, and even sustain us till things return to a more normal path.
In my opinion, if few leading companies can collaborate for a pitch, they'll survive, thrive, and simultaneously offer the clients a sublime experience. Collaboration and integration are our answers to questions about profit and way forward. My opinion might seem idealistic, but I speak from the heart as well as my own business experience."
Can smaller business follow the same ideologies?
"Absolutely! Our industry needs to unify now, and that includes companies of all sizes across the various segments of our industry. My journey of success would have been non-existent without collaborations and I believe the future of Rashi is in collaborations. Each of us have our own distinctive strengths, and now is the time to come together to capitalize upon them. When relationships are forged to be win-win, profits benefit everyone!"
What's your take on managing finances?
"It's simple. I believe in planning, whether it's my work, events, life, funds, you name it.
I've built my life around this principle. 50% of my earnings go towards my expenditures, 25% towards my investments, and the remaining 25% are pure savings. I don't believe in borrowing, and so far, this strategy has worked for me."
With virtual events happening all around, do you believe going virtual is the next step forward?
"Every small step helps. Technology was built to help us, and it helped to keep us connected during these trying times. And the business that was offered through virtual events and engagement helped us stay afloat during these challenging times. However, we humans are social animals. We like being around each other, and that is why our business will always be experiential- we can never go out of fashion.
While technology might be a great addition, it will never replace the real thing.
And the real thing will be back soon, with all the safety measures and SOPs in place. We'll start small, and with sanitization and confidence to back us up, our audience will grow, as will our economy.
When all is well, technology will continue to empower our business. It will help us work from home, reduce real estate costs; and when we conduct events and weddings, it will allow us to operate remotely and also engage with guests and an audience beyond the banquet hall or the destination wedding."
So, ladies and gentlemen, splendid words from a splendid man. We're holding him to his word and waiting for better times.
So, ladies and gentlemen, splendid words from a splendid man. For us, he is the man with the Plan! We're holding him to his word and waiting for better times.
In advance, "cheers!" Here's to better times!