Luxury Suppliers:
Planning & Management – The Wedding Connections
Designing – The Wedding Connections
Production – The Wedding Connections
Entertainment – The Wedding Connections
Photography – Cupid Love Stories
Venues – Aqua Garden, Sikar
Invitations – Snapivit
While the world remains under lock and key owing to the deadly COVID-19, all we can do as of now is reminisce the past and dream of one day attending lavish events again when the virus decides to go away.
Talking of reminiscing, The Wedding Connections designed, produced and planned the opulent homecoming celebrations of Ex Union Minister Mr. Subhash Maharia's 2-month-old grandson, Suvyan on 16 February 2020. A vibrant palette of white and blue with hints of peach & lemon yellow let out the natural landscape of Aqua Garden Resort, Sikar, Rajasthan. From magnificent chandelier ceilings to romantic Moroccan canopy seating, exotic floral arrangements, kid-friendly elephant motifs and intricate entertainment & culinary arrangements, the space were truly transformed into the dreamland for a wide guest list of 25,000 people.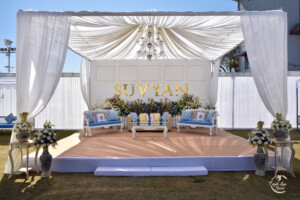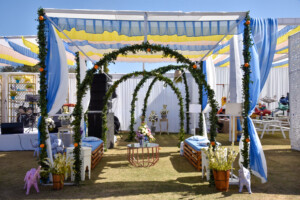 To announce their son's birth to all the near and dear ones, the proud parents, Vineet and Sumati saw no better place for celebrations than their hometown, Sikar. So, it was no surprise they wanted it to be a family-centered celebration. The production from the inhouse team of The Wedding Connections started 3 days in advance.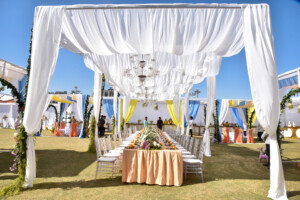 With the wide range of their experience in the industry, their magnificence of the event stood as a testament to their hard work. The team created a stage resembling a large and elegant living room. The ambience included cozy sofas, and chandelier roofs alongside lamps on the sides.  The fine dining lounge was designed with a long feasting table to easily accommodate family meals.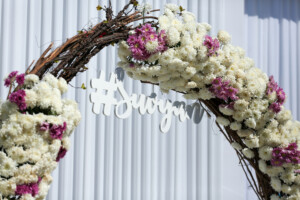 The venue was adorned with the exotic flowers, a mixture of greens and blooms along with oranges for flamboyance. Cane basket hangings and frill curtains were used to brighten the area where food was served. The team added elements like a huge hashtag of Suvyan's name with adorable animal motifs and flowers to modernize the event, as well as welcome the guests as they walked in.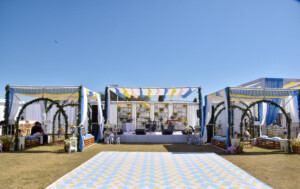 The guests were entertained with photobooths that included creatively placed balloons and fresh flowers & leaves!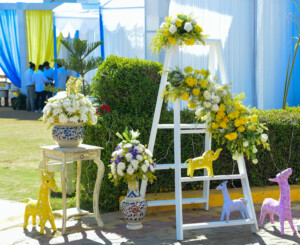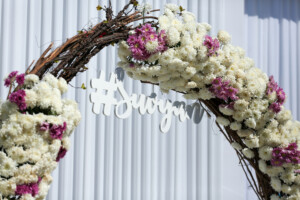 Paying close attention to entertainment value, The Wedding Connections arranged the Beats of Rajasthan, a band that performed Rajasthani folk, fusion Bollywood, and instrumental music. In addition, an eye-catching entertainment platform was organized that was exclusively designed for using modern props.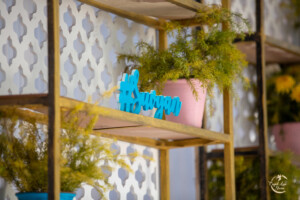 The planners left no stone unturned as they arranged for activities such as dart football, an aeroplane ride, trampolines, magic shows, and tattoo making for kids in attendance.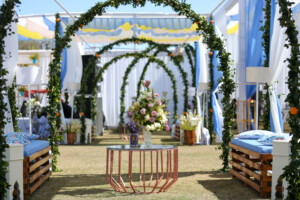 The couple asked for a menu with a key focus on the authentic cuisines of Rajasthan, and that's exactly what they got! A meal plan with buffet counters was incorporated to handle the wide guest list of 25,000 people without any fail. Silver cutlery and crockery were used for the touch of royalty.