India is in a crisis, and we recently hit the 100,000 COVID-positive milestone. With lockdown extended to 31st May, citizens now find themselves slowly losing faith in this scenario ever ending.
General consensus indicates one thing- insanity is brimming over and people are slowly beginning to lose their minds.
Similar to characters in an Edgar Allen Poe story, almost every person we know suddenly found themselves confined to a small space, forced to meditate on their actuality, eventual demise, and quite possibly, their own satanic impulses.
While countless people slowly began to find their quarantines go bust, some of your favorite wedding professionals made the best of this opportunity and simply just… lived it up.
We reached out to Mahesh Shirodkar, Director, Tamarind Global, to try and get a sneak peek into what his life has been like through the lockdown.
We asked a few questions, and he gave us a few interesting answers!
This is how it went…
1. What would constitute a perfect quarantine day for you?
-Wake up without an agenda…No just kidding! To wake up at a leisurely hour, and read 4-5 newspapers in on my laptop. Focus on the happy news, not the dismal! Exercise for an hour – Tabata, Cardio and yoga, and eat a bowl of chilled watermelon. Ideally, I would avoid emails, but that situation is too utopian! So, mails, zooms and webinars and back to back calls till lunchtime. A much-deserved siesta for half an hour, then reading time, catching up on international publications. Evening brisk one hour walk in the building compound, and then a cocktail hour – Sake or gin and tonic or malt whisky and Alexa playing my chosen music for the evening. Dinner, and Netflix time. This is what I actually do, and it's quite perfect. I did not expect it, but quarantine fortunately has been a rejuvenating and productive experience.
2. What are the three things you are most grateful for during this lockdown?
-No cacophony on the road, Quality family and reading time, and last but not least, a good Wi-Fi!
3. Share an embarrassing quarantine memory with us!
-Being caught with my shorts below my jacket on a zoom call.
Via: Cheezburger
4. Okay this is a tough one- if you had access to only one; either single malts or cigars- what do you think you'd be able to survive off during lockdown?
-The malt for sure, malt is the cake and cigars are the cherry!
5. If you had the opportunity to ask a crystal ball any pandemic-related question, what would it be?
-When will we see an end to the fear and start living normally! I guess that's the question on all our minds – a cure, a vaccine and an end to the suffering of the less privileged.
6. If you could wake up tomorrow having gained one talent that would help you sail through this lockdown, what would you want it to be?
-Playing the saxophone! Music is my biggest hobby and it invigorates me, relaxes me and makes me happy. I have been wanting to take up an instrument, but my schedule never allowed me to. Now that I have the time, I have no saxophone – the ironies of a pandemic!
7. The first thing you're going to go eat when this subsides?
-Vada pav with lasan chutney, pav bhaji, Ram Ashriya in Matunga for the best dosas and idlis, Prakash Dughdalaya for Misal Pav and Sabudana Wada and anywhere that supports the poor local daily wage earners.
Via: mmgnrtor.com
8. What would you want your official anti-Covid slogan to be?
-Be positive but don't test positive!
9. What about the outside world do you miss the most
-Meeting friends with carefree human physical contact, going out to a restaurant, getting onto a flight, but mostly just being able to get out and go wherever I choose, whenever I choose.
Via: Shut Up & Take My Money
10. What's been your biggest strength through the lockdown?
My firm belief that we will weather the storm. It may sound cliched, but seriously, positivity goes a long way into making the unbearable a little more tolerable. Where there is darkness there is light and where there is despair there is hope. Surrounded by positive thinking family and friends, my loyal office team members who have rallied and who make
the glass always will look more than half full.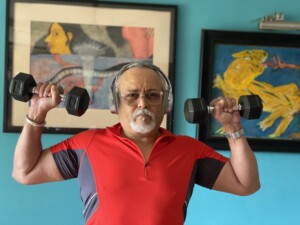 11. What's your guilty pleasure?
Chocolate, without a doubt. Some treats during lockdown, like enjoying sinful, decadent chocolate quinoa cakes and chocolate truffles, with healthy chocolate brownies and dark chocolate. All homemade by my super talented master chef wife – very guilt inducing!
12. In three words, describe your lockdown!
Relaxed, productive and introspective.
13. What is something you wish you could be good at?
Drawing caricatures! I would like to be able to pick out typical characteristics of people and put them on paper.
14. A city you wish to visit once this is over?
First off …Dubai, because I have a second home there which I cannot wait to get back to, and lots of friends who I have not seen for a while.
15. What do you usually eat for dinner?
Because lunch is invariably simple Indian vegetarian, dinner tends to be slightly more exotic. Grilled fish or chicken, salad, momos, Thai pad kaprao gai, sautéed prawns or green curry, chicken rendang, Goan fried fish… lots of protein and vegetables. Sometimes, poached eggs with sourdough bread and avocados.
16. What do you think is an important lesson for people to learn?
It's truly a time to look within, reevaluate what is important to us, reprioritize our values and re-calibrate our lives on a micro as well as macro level.
17. What did you want to grow up to be when you were 12?
A boxer. I was thrown into boxing willy nilly when I was in school, and found I was decent at it and competed at university level for four years.
18. If you could have any other job, what would it be?
Mystery Auditor for Worldwide Upscale hotels. Would get to travel and experience best and worst practices at all hotels.
19. What does creativity mean to you?
A unique expression of a unique idea. The ability to imagine, and bring that vision forth in a way that others can see and comprehend.
20. And last but certainly not least, do you think you're ready for Lockdown 4.0?
It's not as if anyone has a choice. It's not like we can fight it. So yes, I'm ready and going with the flow because it's what each one of us has to do, whether we agree with it or not. Whatever we do to fight this virus, it has to be a collective effort and we have to pull together as a community. So, go with the flow and make the best out of whatever, a safe life has to offer.
Via: Observer