For soon to be newly-weds, choosing a wedding location is one of the most important decisions they will make on their big day. 
So, what does a palace have to offer?
For many, marrying in a palace satisfies a childhood dream of living a royal. Several palaces offer amazing backdrops, both inside and outside, to frame your perfect day. The architecture and history too, can transport you back to a bygone era in an instant, where lords and ladies sat in waiting for their kings and queens.
Marrying in a palace will surely offer you and your guests memories of a lifetime and, contrary to what many people think, a palace wedding doesn't have to break the bank. With properties offering flexible packages to suit your needs, your wedding day can be as lavish or as simple as you want it to be.
Most palaces have stood the test of time for centuries. Well, fortunately you don't have to do the same because keep scrolling to read about some of the finest palaces India has to offer for the most opulent weddings you can imagine!
1. UMAID BHAWAN PALACE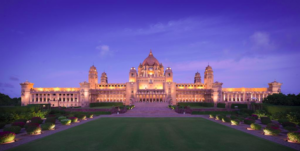 Via: Umaid Bhawan Palace
Surely, we had to start with the grandest of them all, right? The Umaid Bhawan Palace is a magnificent piece of Rajasthan's heritage, and stands as a lasting symbol of new Jodhpur. The home of the erstwhile Jodhpur royal family, the palace currently serves as the world's sixth-largest private residence. The staff at the palace guarantees unforgettable moments and tailor-made experiences, all fit for true royals.
2. SAMODE PALACE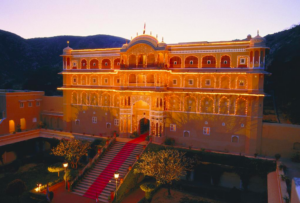 Via: Samode Hotels India
An ode to true royalty, the Samode Palace in Rajasthan is the perfect heritage experience for a wedding ceremony. The flawless décor and sublime service ensures a jaw-dropping wedding experience, for both you and your guests.
3. NEEMRANA FORT PALACE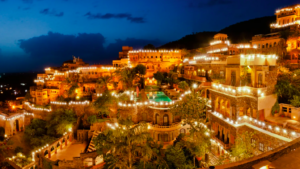 Via: Neemrana Hotels
Lying halfway between Delhi and Jaipur, the gorgeous Neemrana Palace was designed to make eyes mist over with lust. This 15th century palace screams opulence and you will surely find yourself wanting to tie the knot here. Within its many walls, royalty comes alive. This palace offers everything for your big day!
4. NOOR-US-SABAH PALACE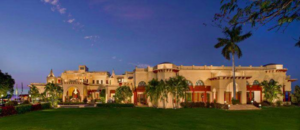 Via: Noor Us Sabah Palace
Appropriately named after the light of dawn, the Noor-Us-Sabah steals hearts with its panoramic views and food from the nawabi era. In addition, the manicured gardens and the lake are surely stuff that dreams are made of! Oh, how romantic!
5. DIGGI PALACE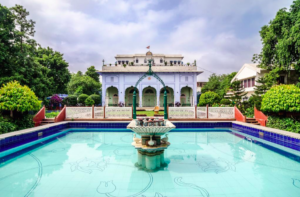 Via: Diggi Jaipur
A sprawling and palatial structure, the Diggi Palace is an entirely splendid location for your wedding. With large lawns and awe-inspiring décor, we think couple's can all but see themselves driving away in vintage cars, moments after tying the knot- ahh, a sight fit for royals!