Something old, something new, something borrowed, SOMETHING SIX FEET AWAY FROM YOU! The Covid-19 pandemic has forced couples who planned on getting married this spring to decide whether to cancel or postpone the happiest day of their lives. Sure, while rescheduling the ceremony is better than contracting the disease, for couples who dreamed of their big day for years or spent their savings, shelving the wedding can be a gut-wrenching feeling.
For some couples, cancelling or postponing was the right path. But for others, CARPE DIEM was the way to go- even if friend's and family couldn't be present, even if the threat of death looms over everything. We think it just feels right, yeah? Tying the knot during this pandemic is no one's dream, but it surely has been some couples' delicate reality.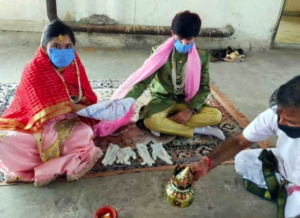 Via: Viral Bhayani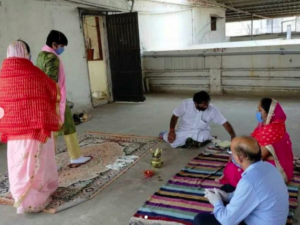 Via: Viral Bhayani
This pair in Surat decided to take their pheras despite the lockdown, in a venue where the primary décor included hand sanitizers. The bride and groom found unique accessories in their face masks, and armed with gloves and the will to spend the rest of their lives together, they tied the knot. What was supposed to be a lavish wedding quickly turned into an intimate affair attended by the parents of the bride and groom only, with the extended family and friends on video conference.
Well, be it in an opulent affair or a simple ceremony under a strict curfew, love is love and this marriage is surely built to last given they consecrated their love in the face of the dark unknown!
So, inspired? We hope so!