World-renowned luxury brand, Lladró collaborated with Shalini Beriwal to produce a sublime gifting collection. The Spanish based company in Tavernes Blanques, Valencia is known for producing luxury accessories, decorative sculptures and porcelain figurines.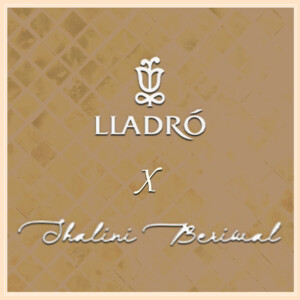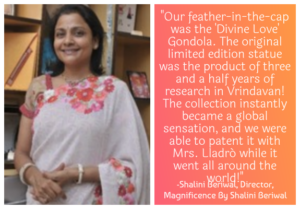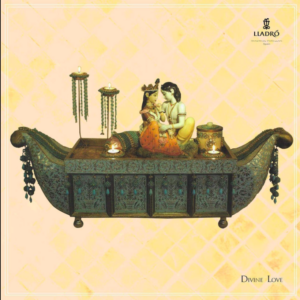 The symbol of eternal love above, was featured on Magnificence's divine love gondola. Love, which is considered universal, divine, and unifying, is represented here by the vessel, which touches the chords of the viewers with its heavenly mysticism. The regal figurine further adds grace to any atmosphere and is an ideal gift option at a wedding considering that it represents eternal love!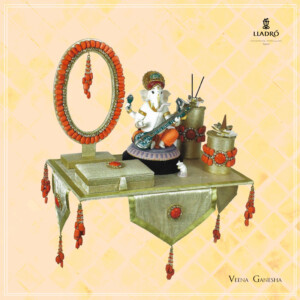 The Veena Ganesha, crafted by Lladró was featured on a smoked velvet platter created by the Magnificence team. The ornately designed platter offers the essence of opulence and festivity. It further reflects tradition with its dull gold and rather rustic orange tones, while simultaneously charming the users with its grandeur and majestic features. The figurine of Lord Ganesha enhances these well put-together elements.
Magnificence's fluted tray bore the beautiful "Hindu Children" crafted by Lladró. Bringing forth the idea that children are happiness personified, the unique platter bears their laughter and wonder in order to remind users of celebration at its finest. The harmony of colors add a visual appeal that soothes the soul.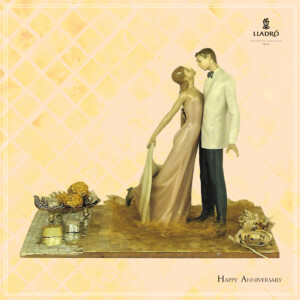 The beautiful piece above is the elegant "Happy Anniversary" so aptly termed by Lladró, brought forth upon Beriwal's mother of pearl tray. The piece is meant to remind the viewers of romance that takes you on an exciting journey. The remarkable mother of pearl tempts the users to take the journey of romance and stands as an invitation to celebrate unions, new beginnings, and last but not least, life itself.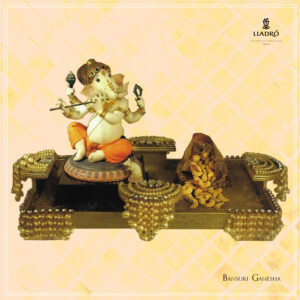 Lladró's limited edition Bansuri Ganesha was featured on an exquisite park tray. The intricately crated platter evokes the feeling of festivity with its dangling pearls and sheer extravagance is embodied in all the nuances of the platter, which makes it a perfect symbol of delight!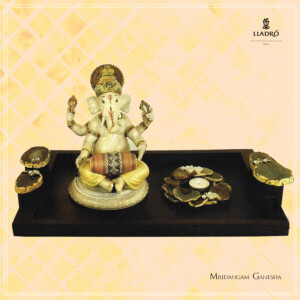 And finally, the Mridangam Ganesha was featured on Magnificence's semi-precious wooden tray. The allure of the soothing earth tones coupled with the elegance of the design make this platter the perfect platform to rest Lord Ganesha upon! Alternatively, it's perfect for other types of wedding gifting too!
Magnificence by Shalini Beriwal is a one-stop-shop all wedding-related regalia. Ranging from trousseau services to décor, Shalini and her team help all wedding dreams come true!
To know more, follow them on Instagram- https://instagram.com/magnificence_shalini_beriwal?igshid=1f2xpivaxanjw;
Facebook, https://www.facebook.com/MagnificencebyShaliniBeriwal/
Or the Magnificence Website, https://magnificence.in/
For Enquiries and Orders Call Shalini Beriwal at +91 9350222333.