As we talked about earlier this week, WedEd's Knowledge Flix was officially kicked off on the 7th of April and was privy to a large audience. With Episode 1 being a great session, WedEd officially brought forth Episode 2- The Ballad of Décor & Design.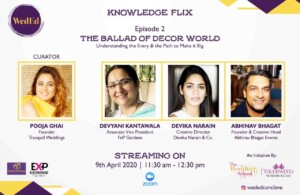 But before we get into that, a little reminder on what it's all about? Here's a little from the co-founder of WedEd- Mareesha Parikh, CEO, The Wedding School. Watch her explain what WedEd is all about, and give you a little peak into the concept of Knowledge Flix.
With Episode two packed with material regarding the enormous world of décor, design, and production- it's surely one that cannot be missed.
The panelists include none other than:
Devyani Kantawala, Associate VP, FnP Gardens,
Devika Narain, Crreative Director, Devika Narain & Co. and,
Abhinav Bhagat, Founder & Creative Head, Abhinav Bhagat Events
WedEd also proudly announced the present the curator of Episode 2 – The Ballad of Decor & Design, Pooja Ghai, Founder, Tranquil Events. Pooja, who masters the art of conversation will surely get you the answers to all your questions about entering the enormous world of decor, design & production and making it big within it.
So, interested? Head on over to the WedEd Instagram page to register and tune in to the SECOND EPISODE AT 11:30 AM on 9 April. From discussing various career opportunities in events and entertainment to honing special skill sets, it's all here!
REGISTER HERE; PASSWORD: 791629