As policymakers around the world struggle to battle the rapidly increasing Covid-19 pandemic, businesses in badly-hit nations such as Italy find themselves in uncharted territory. Even if Italy's draconian measures are able to finally halt the spread of the deadly disease, the long-lasting impacts will certainly leave the economy in tatters, with small and medium-sized businesses hit the hardest.
The Italian government has deployed the most extreme curbs in Europe so far, all to contain the spread of the virus. Italians are restricted to the safety of their homes, unless for emergencies or essential purposes. Schools, universities, bars, museums, sports facilities, and even several retailers have been shut down indefinitely across the whole country. People are being asked to maintain distances of 2-3 meters, both in external as well as internal areas.
These harsh controls on personal movement, the harshest since World War II, will certainly wreak havoc on Italy's economy, further compounding supply interruptions and business demands, especially those in the wedding industry with a demand input that could shock businesses and drive Italy towards a painful recession.
We reached out to a few leading Italian wedding professionals to try and gauge how severe the situation was, and to understand what measures they're taking to fight this dreadful setback. Monica Balli, Andrea Spalletti Trivelli, Anita Yenovkian, Fernanda Bellucci, Eric Veroliemeulen, Sam & Rayana Sacramento, Antonio Ladisa, & Matteo Corvino, prominent wedding planners from Italy all responded, and had a lot to tell us.
HOW BADLY ITALY'S WEDDING INDUSTRY IS AFFECTED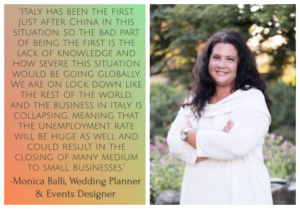 Monica: "Italy has been the first, just after China in this situation, so the bad part of being the first is the lack of knowledge and how severe this situation would be going globally. Italy is actually fighting well compared to many other countries. We are on lock down like the rest of the world, but as people we are compact, we can react- we are reactive people. However, the business in Italy is collapsing, meaning that the unemployment rate will be huge as well and could result in the closing of many medium to small businesses. We managed to move our destination weddings to the autumn or to 2021. The future is very difficult, and we now need new brains to think differently. In my opinion, the people will not travel for a while, not because of the lack of want of fear, but for the borders closed or flights not in place. Each country will open or react upon its own time. Destination weddings will turn more into local weddings or small destination weddings. I also believe we will have new destinations, new ideas, and new ways of keeping our clients and guests safe. For me one of them is yachts events. We are working on a selection with my yacht broker, Anita Yenovkian, for worldwide, safe, any size, and any budget weddings. Different and unique. I may be a dreamer, but we need to keep our positive vibes to get out of this situation and turn it into something good."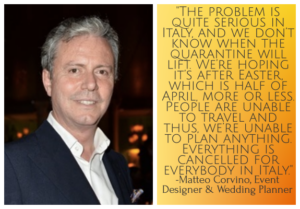 Matteo: "Our office has been closed for almost a month and I had to choose between weddings that were in the same city at the same moment. Whatever we planned in April, May, and June is cancelled. Even my assistant is unable to commute due to the stringent lockdown. So, the problem is quite serious in Italy, and we don't know when the quarantine will lift. We're hoping it's after Easter, which half of April, more or less. People are unable to travel and thus, we're unable to plan anything. Everything is cancelled for everybody in Italy. I had a beautiful wedding coming up, everything was ready, we spent a lot of time planning and designing the event in a Las Vegas library, but unfortunately, we had to cancel everything because of the pandemic. It was a rather hopeless moment. I fear this is going to create problems for all events that follow."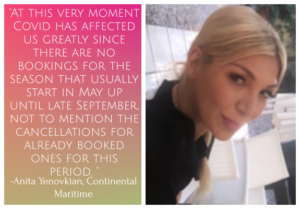 Anita: "At this very moment Covid has affected us greatly since there are no bookings for the season that usually start in May up until late September, not to mention the cancellations for already booked ones for this period. We believe that long term, perhaps yacht charter wedding events and yacht charters will be for the high and ultra-high net worth clients for some time to come."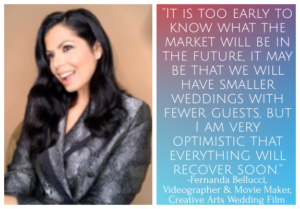 Fernanda: "What has been going on in these few weeks is truly incredible. It is true that Covid-19 was a very hard blow for the Italian economy. In particular, for those who work with tourism and events like us. After restrictive ordinances, we all find ourselves facing a deep crisis in our work. 90% of my clients are foreigners and the weddings I had by July were all moved to September and October 2020. It is too early to know what the market will be in the future, it may be that we will have smaller weddings with fewer guests, but I am very optimistic that everything will recover soon."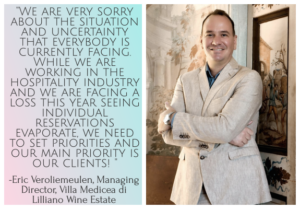 Eric: "We are very sorry about the situation and uncertainty that everybody is currently facing. While we are working in the hospitality industry and we are facing a loss this year seeing individual reservations evaporate, we need to set priorities and our main priority is our clients! We would like to express that our main priority at Villa Medicea di Lilliano is to always find the best solution for all of our high-end clients and give the service and attention that guests expect from us. We have 70 events scheduled for 2020 and we have given the priority to our guests that planned their event in April, May and June 2020. So far, we have not had one cancellation and we all accommodated our events later in the year or we offered to postpone their wedding to 2021."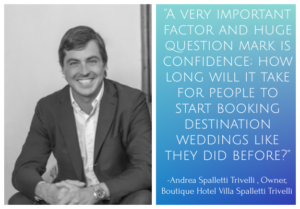 Andrea: "We are affected immensely. There couldn't have been worse timing as this is the planning period for all the weddings taking place in June and July, forcing most couples to postpone the wedding (most of them to 2021). This will not only impact the 2020 revenue but also the 2021 as most of the weddings from 2020 will take up dates and venues of the 2021 weddings causing a dispersion of revenue across the board. Another very important factor and huge question mark is confidence; how long will it take for people to start booking destination weddings like they did before?"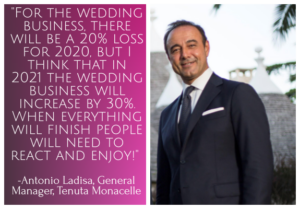 Antonio: "The impact of this surreal situation todays has affected everyone. We are in the same boat- obviously, we had to cancel and move the weddings from March, April, May, and June to July, August, September, and October, and even some to 2021. For the wedding business, there will be a 20% loss for 2020, but I think that in 2021 the wedding business will increase by 30%. When everything will finish people will need to react and enjoy!"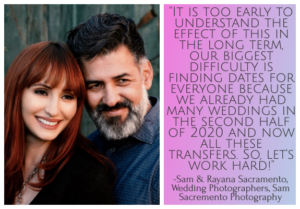 Sam and Rayana: "Immediately the weddings were affected until June of this year. While no wedding was canceled but all postponed to September and October of this year and some to 2021. We have reached positive agreements with all our contracts and we are very hopeful that everything will return to normal in the coming months. It is too early to understand the effect of this in the long term, our biggest difficulty is finding dates for everyone because we already had many weddings in the second half of 2020 and now all these transfers. So, let's work hard!"