We love every wedding we feature. From the décor to the outfits, every little detail keeps us wanting more. Since we handpick each wedding we feature, and every one of them offer inspiration in different ways… We thought it would be fun to bring to the fore 5 insanely adorable ideas that you might want to steal from recent weddings we have featured. Because honestly, who doesn't love love?
1. BUBBLES FOR DAYS…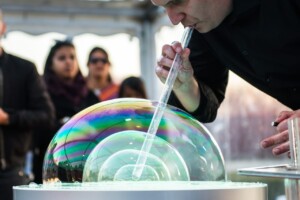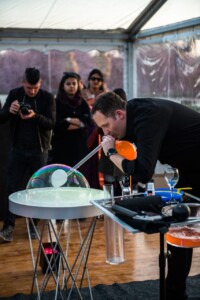 Via: Dhanika Choksi, Panodrama Events
Panodrama Events' stunning Prague wedding featured a bubble artist! Bubble art, you ask? Well, to keep guests entertained, the wedding planners hired a bubble artist who wowed everyone with his absolutely marvelous skills. Guests watched in awe as the man carefully created figures out of bubbles. What an innovative and unique way of keeping guests spellbound!
2. COORDINATED FAM OUTFITS!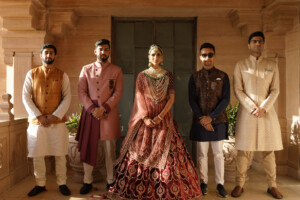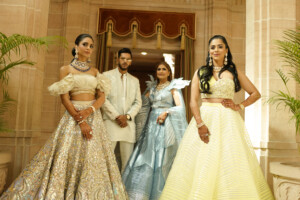 Via: Wedding Journals of India, YOLO Entertainment
While the bride and groom (pictured on the left above) decided on coordinated outfits, the whole family jumped into the cute idea as well, and everyone wore matching clothes! What absolutely delightful attention to detail!
3. POST WEDDING BOAT RIDE!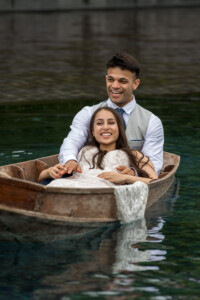 Via: Lumens Photography, Foreign Wedding Planners 
Nothing says post-wedding bliss like a soothing boat ride for two! Still decked up in their wedding attire, this couple stole our hearts with their adorable pictures and oh-so-cute smiles- all while floating on tranquil waters!
4. HIS SHOE… OR HERS?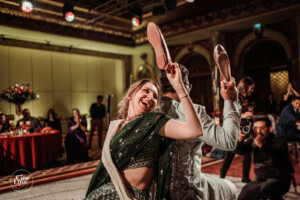 Via: Cine Love Production, Chapter 2 Events
Wedding games are always fun, especially if they help break the ice and keep guests entertained! This couple indulged in 'The Shoe Game', and boy, was it a blast? The Shoe Game is a popular wedding reception game to play because in addition to being hilarious for the couple and the guests- it's a super simple concept suitable for all ages! SWOON!
5. SELFIES WITH THE BRIDE!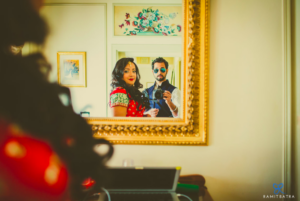 Via: Ramit Batra
How absolutely adorable is this selfie? Taking a break from all the wedding ceremonies and associated frenzy, photographer Ramit Batra took a break and managed to capture a priceless memory with the bride on her big day. We love everything about this!