With Prime Minister Modi's recent call for a complete lockdown on Sunday 22nd March with the Janata Curfew, the nation will remain within the safety of their own homes from 7 AM to 9 PM so as not to contract or spread the Novel Coronavirus, Covid-19.
In order to ensure that those confined to the four walls of their houses are not driven to boredom-induced insanity, artists from across various locations are coming together to entertain people with a- DIGITAL JANATA CURFEW CONCERT. The primary objective of this concert is connecting with fans across country, social media audience while the world is practicing #SelfQuarantine.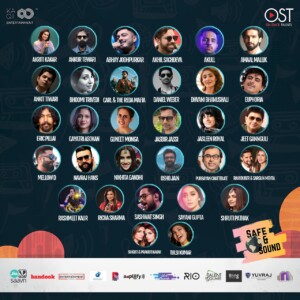 The idea that fueled the digital concert, Safe and Sound, was brought to the fore by Mourjo Chaterjee in view of the 'Janata Curfew' and was well supported by his industry partners and colleagues.
When some International singers like Chris Martin and John Legend decided to come online and engage with their audience, the Indian Artist Management industry was kind enough to speak to various singers & celebrities to come and be a part of what they call it as #SafeAndSound Digital Concerts. A lot of senior and known singers like Amaal Malik, Richa Sharma, Ankit Tiwari, Akhil Sachdeva, have decided to join the impromptu performances and encourage fans to stay home during the coronavirus emergency.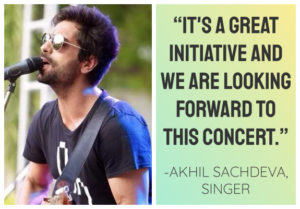 On touching base with singer Akhil Sachdeva he stated, "It's a great initiative and we are looking forward to this concert." Actress Sunny Leone's husband Daniel Weber, who confirmed his participation in the concert further added, "We urge people to stay home, in the meanwhile, we artists will try our best to entertain y'all with our music."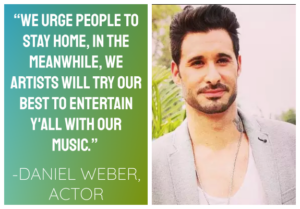 Tulsi Kumar, another concert performer, furthered the conversation and said, "The times are difficult and we are all confined to stay put at our homes with a lot of things coming to a halt. We have got to fight this together and do the most by staying at home and being safe. The idea of a digital concert was just for all the music lovers a small jamming session from us to you all, where you could see and listen to us live on your phones. Guys enjoy the music, and stay safe, stay indoors and take all precautionary measures."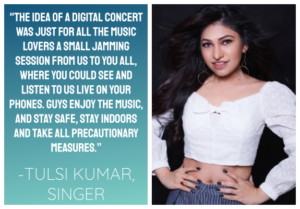 We reached out to Mourjo Chatterjee, the mastermind behind this genius idea, and Jaideep Singh, Founder, The Entertainment Company, who helped making the event a reality and supported Mourjo, and asked them a couple of questions! Here's what they had to say,
 1. How did you get the idea for this online, crowd-free, yet immersive concert?
Mourjo: With a little virus who managed to disturb millions of people globally, the government locking down countries and there being no mode of leisure and entertainment- some of us (artists managers) were on a conference call as to how this business is getting affected and that's where we got this idea of doing an online show/interaction.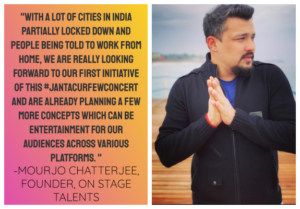 2. Can you stress enough the need to stay in right now?
Jaideep: Everyone SHOULD stay in because the only way to prevent a medical catastrophe in the nation is to make sure YOU are healthy and YOUR FAMILY is healthy. The tsunami of infected cases is about to occur and staying indoors is the only way to reduce its impact. If staying-in becomes the social norm, we can save lakhs of lives, including lives of those we love.
3. Can we hope for more of these concerts in the case the curfew extends past tomorrow?
Mourjo: Since the graph is going upwards, it will surely take some time to fight this virus, make situations better or stable and get back to normal life. With a lot of cities in India partially locked down and people being told to work from home, we are really looking forward to our first initiative of this #JantaCurfewConcert and are already planning a few more concepts which can be entertainment for our audiences across various platforms. Home arrest does sound stressful and sad but we want to ensure that it's not as boring as it sounds.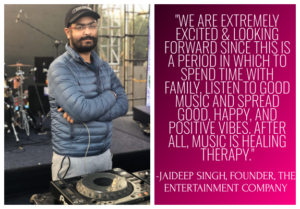 4. How much are YOU looking forward to this?
Jaideep: We are extremely excited & looking forward since this is a period in which to spend time with family, listen to good music and spread good, happy & positive vibes; After all, music is healing therapy!
So, folks! Now for the important bit! The concert will take place on Sunday from 2 PM until 10 PM! Artists will go live on their social media accounts, all you have to do is tune in! Singers like Tulsi Kumar, Jasleen Royal, Richa Sharma, Navraj Hans, Shruti Pathak, Dhvani Bhanushali, Sukriti & Prakriti Kakkar, Jasbir Jassi, Jeet Ganguli, Abhay Jodhpurkar, Osho Jain, Bhoomi Trivedi, Ravi, Aakriti Kakkar, Rashmeet Kaur, and Shargun Dubey have also confirmed their participation. With all on hands on deck, this is going to be one fun #JanataCurfew!
Stay home, and stay safe y'all!