Magnificence by Shalini Beriwal is a one-stop-shop for all your wedding-related regalia. From trousseau services to home décor, these ace designers turn fantasies to realities. Haute Couture House, Versace recently recognized this and approached the brand to work on their collection. Here's a look at the stunning collection…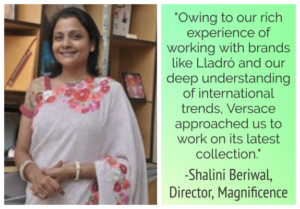 The 'Shape of Love' wooden decorative tray features rich semi-precious stones and exquisite diamantes flowers! Based on the concept of love, which has no shape or form, the designers handcrafted a tray for Rosenthal Versace India to display their signature angel cupids…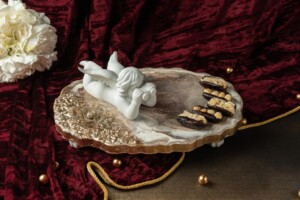 The multifunctional gift packing was handcrafted to compliment the gold tone of the Medusa Rhapsody Vase. The hues of yellow and gold on the box & the service tray enhance the baroque flowers motif embellished all over the vase and add the ever-classy touch!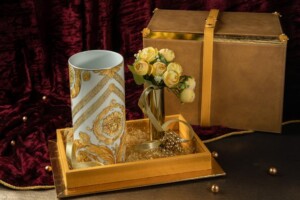 The Rosenthal Versace Collection that Magnificence designed further featured serene angel cupids, sitting pretty on handcrafted white faux leather trays with complementing multi-functional containers & a stunning Versace gold frame! Truly the perfect gift for any occasion- be it an anniversary, baby announcement, baby shower or Valentines!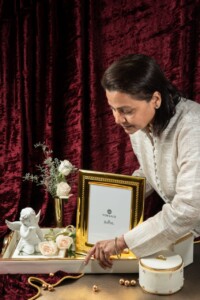 A majestic frame called for a majestic background, and that's exactly what the designers brought to the fore with the gold rim of the platter, which was coordinated with a Versace frame. A mirror pattern further added to the grandeur. The crystal vase with the golden dori and the highlights is an ideal container- both classy and utility-based. The yellow flowers reflect gold in all senses.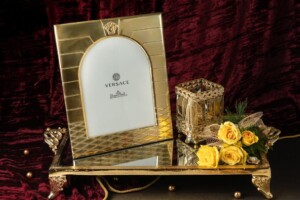 Magnificence decided on a yellow and blue combination for  their next stunning addition to the collection. The base of the product was designed keeping the aforementioned color combination in mind. The color ochre yellow was used to highlight the entire Versace piece and the matching flowers. Don't miss the matching sweets that were added to the three tiers! It is a stunning piece to gift- or even to use if you don't want to part ways with it!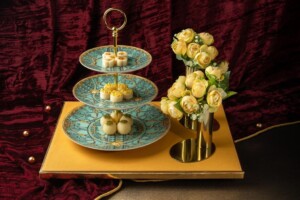 Magnificence creativity was brought to the fore as the chose the colors, the flowers, and the golden flower vases- as mentioned above, the perfect collection to gift or use.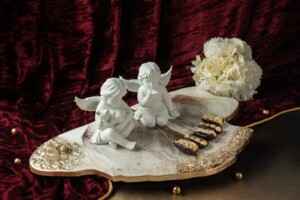 When asked her experience with being approached by and collaborating with Versace, Shalini Beriwal, Director, Magnificence stated, "Owing to our rich experience of working with brands like Lladró and our deep understanding of international trends, Versace approached us to work on its latest collection."
To know more, follow them on Instagram- https://instagram.com/magnificence_shalini_beriwal?igshid=1f2xpivaxanjw;
Facebook, https://www.facebook.com/MagnificencebyShaliniBeriwal/
Or the Magnificence Website, https://magnificence.in/
For Enquiries and Orders Call Shalini Beriwal at +91 9350222333.