LUXURY SUPPLIERS:
Wedding Planners: YOLO Entertainment and Motwane Weddings & Entertainment
Décor: Devika Sukhuja
Bartending: Drinq
Sheesha Services: Hookah Royals
Salon Facility: Truefitt & Hill
Fireworks: Morani Fireworks
Music: DJ Vicky (Baraat), DK Akhtar (Sangeet), Manasi Scott (Sangeet), Siddharth Sood and Singh's Unplugged (Pre-wedding celebrations), DJ Shadow (After-Party)
Venue: Umaid Bhawan Palace
Known for its majestic ambience and regal setting, the Umaid Bhawan Palace was chosen for a wedding executed by YOLO Entertainment and Motwane Entertainment and Weddings' for a wedding on the 28th through the 30th of January. The ceremonies were flawlessly executed by the planners, making the wedding an event to remember.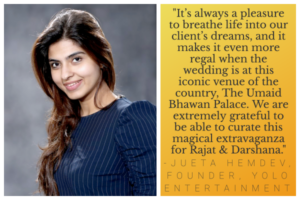 While the wedding was an affair fit for royalty, the events ceremonies themselves were intimate, with every little detail attended to with nuance and care. The couple were certainly offered the experience of a lifetime and a multitude of memories… From vintage pick-up cars to personalized décor and props, no stone was left unturned by Jueta Hemdev's team from YOLO Entertainment and Aditya Motwane's team from Motwane Entertainment and Weddings.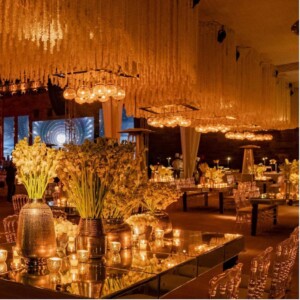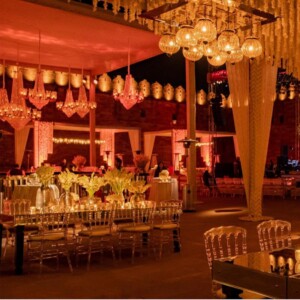 The festivities were initiated with a warm welcome dinner on the great lawns before the Umaid Palace. With 'enchanted forest' being the theme, gorgeous florals and furniture added to the striking and almost magical atmosphere. The bride received a royal welcome as she was ushered to the event upon a horse chariot, surrounded by Mashaal men. Siddharth Sood and Singh's Unplugged provided the entertainment for the evening and certainly upped the fun and excitement quota! Their amazing performances were followed by DJ Shadow for the after-party, which was held at Marwar Hall. LED frames bedazzled guests, as ambient dancers and neon décor surrounded them.
The following day, the pair's families indulged in a pleasant match of cricket upon the Lancer Lawn, followed by a fun life-sized jenga and snakes & ladders game! The afternoon was hosted by Raghav Juyal who impressed the audience with his killer moves! His performance was followed by another remarkable performance by Manasi Scott. The Sangeet followed, where white and gold were chosen as the colors for the evening. Manasi Scott performed again, amidst ornate floral arrangements. Navraj Hans and DJ Akhtar delivered energetic performances soon after, which kept the guests dancing until well after the sun came up.
The actual nuptials, held at the Baradari Lawn, were extraordinary! A grand baraat, which included a vintage car, a horse chariot, and an elephant, set the mood for the wonders that were to follow. The groom entered dancing to DJ Vicky's music. The bride too was ensured a lovely entrance! The royal vibe of the evening was matched with the complementary red and gold tones, and the bell-shaped mandap added to the charm. Covered in candle beds and florals, the lawn looked straight out of a fairytale.
When asked about her experience, Jueta Hemdev, Founder, YOLO Entertainment exclaimed, "It's always a pleasure to breathe life into our client's dreams, and it makes it even more regal when the wedding is at this iconic venue of the country, The Umaid Bhawan Palace. We are extremely grateful to be able to curate this magical extravaganza for Rajat & Darshana."