Okinawa- a paradise full of stunning sights. From the beautiful ocean with white sandy beaches to the crystal blue sky, the historical ruins to the townscapes- the city is fast becoming a popular wedding location in Japan. Renowned for its beautiful beaches, great food, gentle sea breeze, bright sunlight, and dazzling landscapes, planning a wedding at this striking location will surely make all your nuptial dreams come true!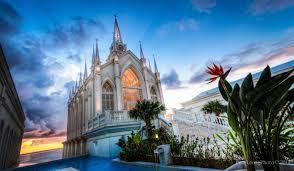 Retrieved from: http://doksik.blogspot.com/2012/11/wedding-chapels-of-okinawa
With Okinawa offering an assortment of inimitable and unique styles to fit your tastes, this semitropical paradise is THE place to tie the knot.
Want to know more? Well, here's some things you should look forward to:
1) SHOPPING, DINING, AESTHETIC
The festivity is endless in your Okinawa wedding. With a wide spectrum of activities available for you and your guests before and after the nuptials, the moment you leave your resort is the moment the fun begins. The gorgeous landscape, the historical and cultural background, and the delectable food are just a few of the range of activities and interests the place has to offer.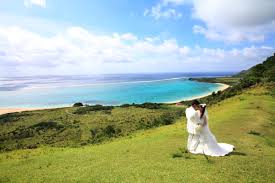 Retrieved from: https://www.hitchbird.com/japan/okinawa/wedding-venue
2) THE WEATHER
Since Okinawa is one of Japan's southernmost islands, all your subtropical wedding dreams will come true with the temperature being around 22.7℃ on most days.
Retrieved from: https://www.halaljapan.com/okinawa-as-a-wedding-destination-for-indians/
3) THE ABUNDANCE OF ART AND CULTURE
The refined traditional arts of Japan include forms such as the tea ceremony, the architecture, the paintings, the ikebana (flower arrangements), amongst others. These, combined with their distinguished performing arts and dance, all of which are rooted in different eras of the past, make way for a remarkable atmosphere to surround your wedding days.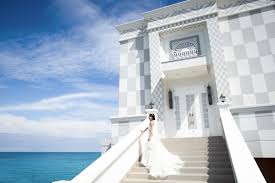 Retrieved from: https://weddingaffair.co.in/aesthetic-weddings-at-scenic-okinawa-part-5/
4) THE MAGNIFICENCE AND OPULENCE
The Rizzan Sea Park Hotel is just one example of the sheer splendor of Okinawa. Located in the Okinawa National Beach Park, this property has 800 meters of gorgeous white sand. Imagine your 'saat phere' with ocean waves in the background. How absolutely dreamy!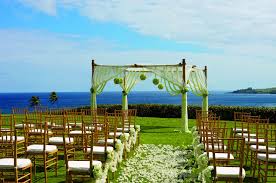 Retrieved from: https://www.ritzcarlton.com/en/hotels/weddings/venues
Featured image retrieved from:https://www.youtube.com/channel/UCfGZMowyuZYIiDYpRd