Marriage- an institution which stands the test of time.
More than 10 million weddings are celebrated in India every year. From luxury to destination, from court to budget, marriages are ever-green, and traditions live on.
Have you ever considered weddings actually being green, though?
Like any other business, weddings follow trends and with climate change all around us… what could be more trendy than an eco-friendly wedding?
Protecting the environment is crucial, but luckily for us, it's also increasingly easy. With technology more advanced than ever, eco-friendly finds are more available than ever. If you and your soon-to-be-spouse want to change the trends from big-fat-wedding to an eco-wedding, here's how-
1. CHOOSE BIODEGRADABLE
Disposable and biodegradable serve ware, vessels, and cutlery can be a fantastic way to stay organic!
Retrieved from: https://mystery-m.by/news/2 
2. PICK A PRESERVE
Picking a park or a preserve not only funds and gives exposure to a place devoted to environmental stewardship, you get a gorgeous spot to tie the knot too!
Retrieved from: https://in.pinterest.com/pin/345299496419904609/
3. ARRANGE SUSTAINABLY GROWN FLOWERS
Your food might be sustainably grown, but what about your flowers? Choosing sustainably grown flowers not only adds to the beauty of your décor but you also play your part in saving the bees.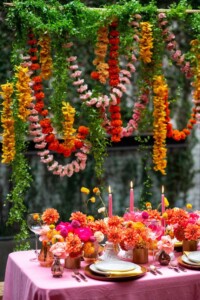 Retrieved from: https://listimg.com/user/weddingblog2944
4. GO LOCAL
Not only will you save those dolla-dolla (rupee-rupee?) bills, but you will also be cutting down on your carbon footprint. So hire local vendors, buy local and in-season flowers, and watch a few of mother nature's worries slip away.
Retrieved from: https://in.pinterest.com/pin/692428511435162501/
5. DONATE LEFTOVERS
Hey, why not give multitudes of people, even those not invited to your celebration, a reason to rejoice too? Spread joy, be charitable, use your privilege for good, and donate the extra food!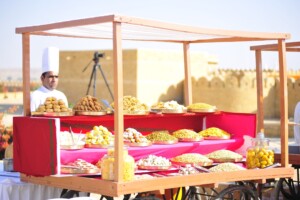 Retrieved from: https://www.vogue.com/article/karishma-jhalani-ashwin-jain-desert-wedding-jaisalmer-india
6. HIRE A SHUTTLE
Ditch the need for multiple cars by setting up shuttle transportation for guests. This is also a convenient way to get people to avoid drinking and driving!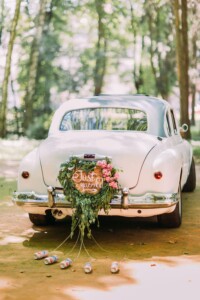 Retrieved from: https://www.pinterest.co.uk/pin/519321400774132646/
7. SEND PAPERLESS INVITES
As an old-school lover of all things traditional, I can see forgoing the paper invite might sound a bit heartbreaking. But hey, save the trees, am I right? Not only are you doing the environment around you a favour, you're doing your wallet a favour too!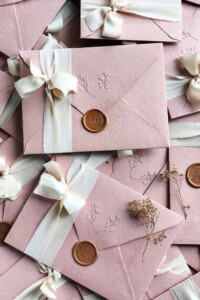 Retrieved from: https://glaminati.com/wedding-invitations/
Featured image, retrieved from: https://www.weddingwire.in/wedding-tips/eco-friendly-wedding–c5133