Speaking of international destination weddings, one has to agree that the role of a Destination Management Company (DMC) is crucial. More so, because no matter how experienced or well traveled, the wedding planner may be, the truth is- he/she cannot execute a successful project without the backing/assistance of a solid support system in the chosen wedding destination.
A DMC plays the role of a one-stop shop for all solutions helps the planner in identifying and subsequently negotiating and closing deals with the "right" vendors. Many times the negotiation bit is handled by the DMC alone, which makes it all the more simple for the planner.
There is a big difference between Indian and Western weddings, and a DMC helps bridge the gap culturally, by helping the locals understand this, in order to execute their tasks to perfection on the day.
Spearheaded by a strong core team- Clive Perry and Jaideep Venugopal, BlueMarble Destination Services, based in Malta is one such Destination Management Company that our most seasoned and experienced wedding planners vouch for.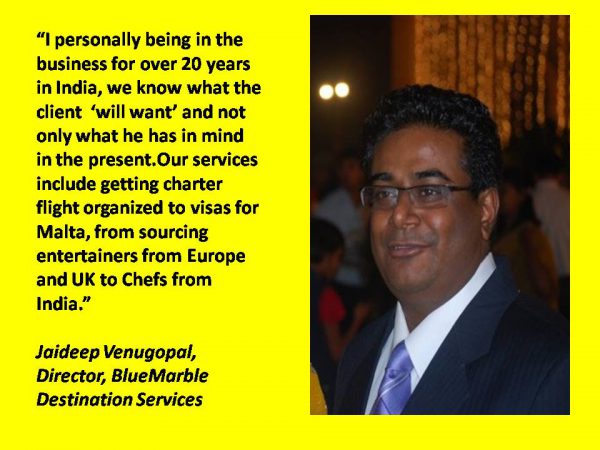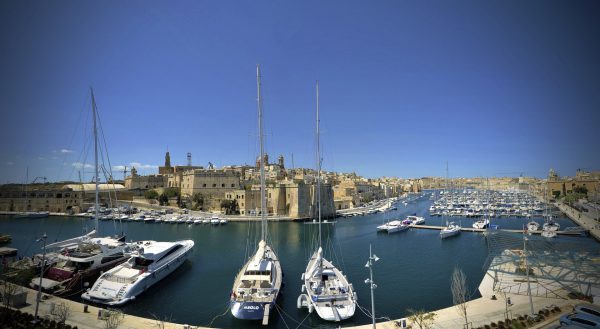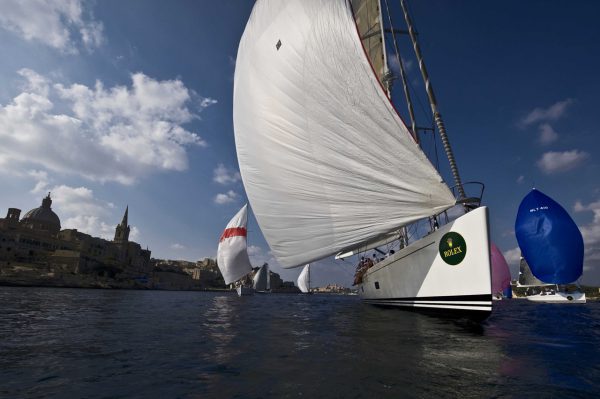 Click HERE to view all the services offered by BlueMarble Destination Services
While Jaideep Venugopal has over 18 years experience in managing large format events in India and abroad, he has also spent over a decade in Malta which has given him vast knowledge about the island.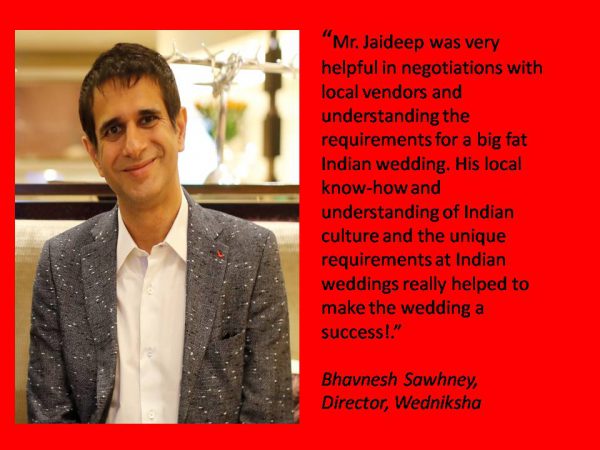 On the other hand, Clive Perry has over 20 years experience in organizing MICE in Malta. And also specializes in tourism for the Mediterranean in the cruise line industry.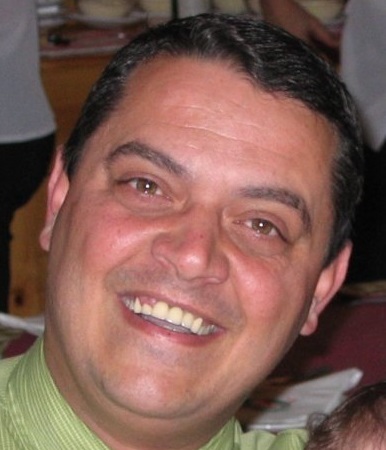 His company, BlueMarble Travel Services was awarded "Top 10 Tour Operators World Wide" by ResidenSea Cruises!
The Wedding Design Company was the first among Indian wedding planners to execute a celebration in the mesmerizing Malta. Speaking of working with BlueMarble Destination Services, she exclaims, "Working with BlueMarble was easy. Their understanding of the events business is a great plus. Also, both Jaideep and Clive are patient and happy guys. With decisions always on a see-saw, it's good to have partners who understand. I wish them all the best and look forward to working with them again!"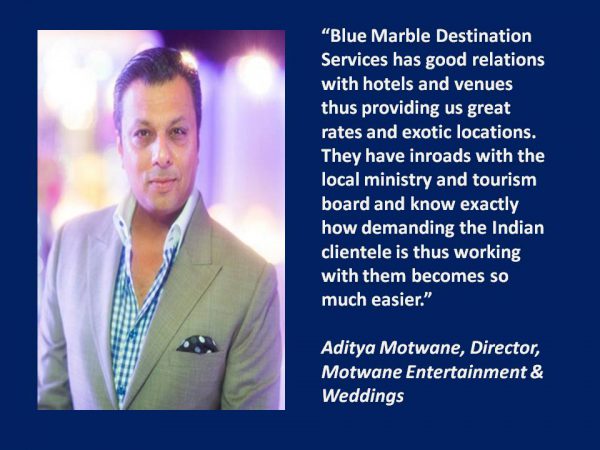 From Hospitality, Logistics, Transport and Guest Management to Budget Management, Venue Scouting and Managing Vendors in terms of Decor, Lighting, F&B etc, BlueMarble Destination Services has it all on a silver platter for planners looking to bring their clients to Malta!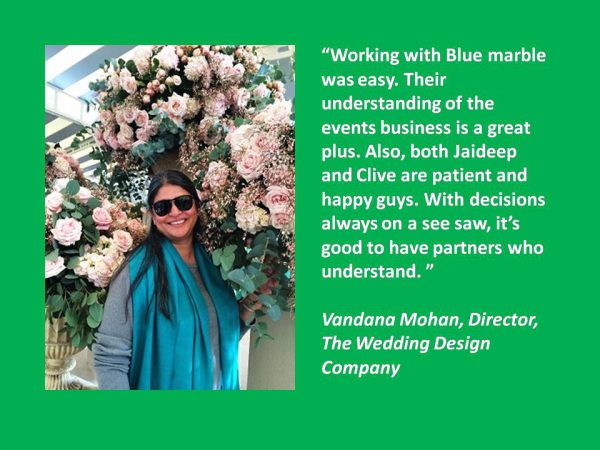 Speaking of his experience of working with BlueMarble Destination Services on a very recent Indian wedding, Bhavnesh Sawhney, Director Wedniksha says, "It was a great experience working with BlueMarble Destinations. Especially in an Indian wedding with one of a kind events, having knowledge about local venues is important. A DMC's role is crucial to ensure that everything is organized and that Indian suppliers get the assistance needed. Not to mention, keeping the budget to the client's expectation and dealing with all matters during the days of the events. BlueMarble Destination Services did just that and a lot more!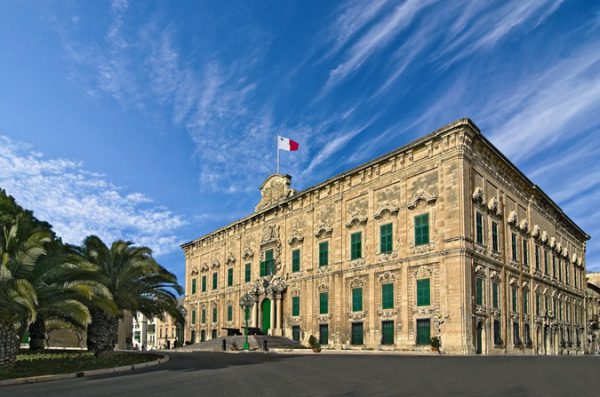 Mr. Jaideep was very helpful in negotiations with local vendors and understanding the requirements for a big fat indian wedding. His local know-how and understanding of Indian culture and the unique requirements at Indian weddings really helped to make the wedding a success!
While Aditya Motwane, Director, Motwane Entertainment & Weddings said, "BlueMarble has the experience and knowledge of working over many years in Malta. They have good relations with hotels and venues thus providing us great rates and exotic locations. They have inroads with the local ministry and tourism board and know exactly how demanding the Indian clientele is thus working with them becomes so much easier."
BlueMarble Destination Services- A STRONG SUPPORT SYSTEM FOR WEDDING PLANNERS
Elaborating on how they can assist planners in closing projects with clients, Jaideep Venugopal explains, "Technology has come a long way and meetings have been done with previous Indian Weddings planners and clients through Skype. However, we do our best to meet the client with the Indian Planner when the client has shown a certain degree of seriousness about Malta as a destination."
Speaking of how a new planner can also get end to end support from BlueMarble in Malta, Jaideep Venugopal of BlueMarble Destination Services elaborates, "I personally being in the business for over 20 years in India, we know what the client  'will want' and not only what he has in mind in the present."
He also explains, "Our services include getting charter flight organized to visas for Malta, from sourcing entertainers from Europe and UK to Chefs from India. We harness our Global, Indian and Government of Malta relationships to ensure a successful event experience for the planner as well as the client."