Wedniksha recently executed a three-day wedding celebration of Avantika & Devvrat at Hotel Palazzo Versace, Dubai from November 21 to 24, 2017.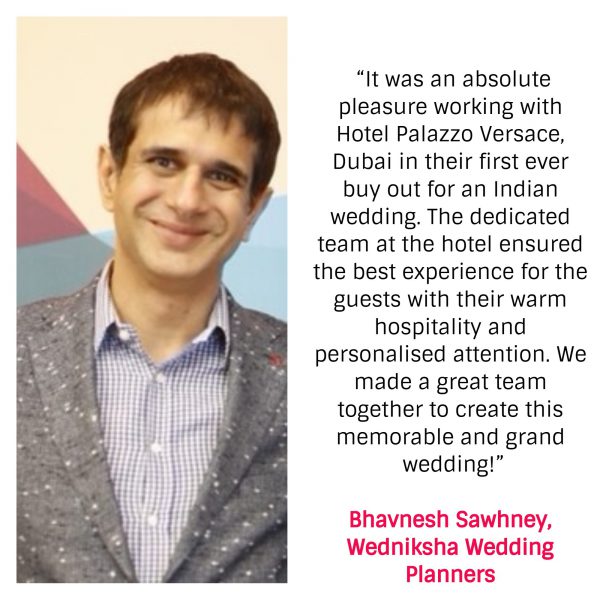 THE SPECTACULAR VENUE
Palazzo Versace Dubai is 15 minutes away from Dubai International Airport and it offers cultivated venues with the finest facilities. Imagine planning a wedding day which is backdropped with unobstructed views of the Dubai Creek in a setting that features a unique mix of Versace's Italian heritage with the local Arabian culture! Whether you choose to have your wedding indoors or outdoors, the hotel offers elegantly designed spaces for weddings and private celebrations.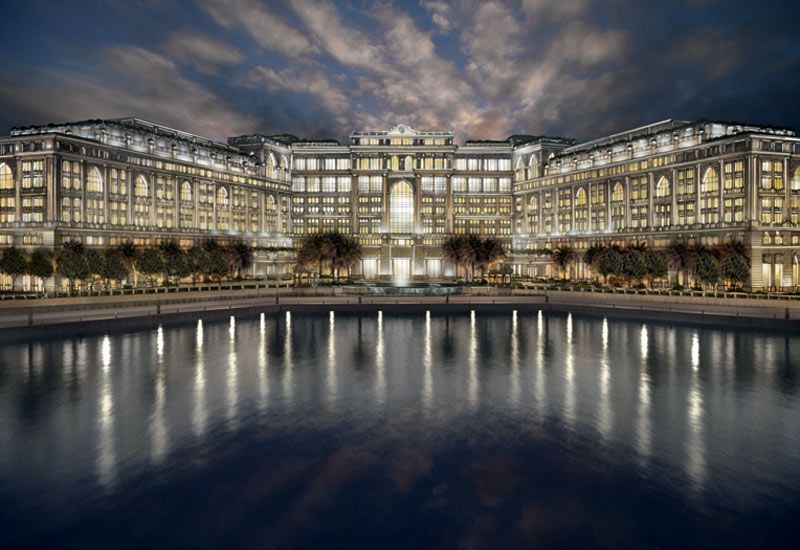 *Palazzo Versace image via http://www.arabianbusiness.com
From its conceptualization to its final execution in terms of décor, artistes, technicals, entertainment, hospitality, and logistics among other finer details, this 3-day celebration was curated and produced by Wedniksha.
Guests were welcomed by Dholwalas and all that pomp and show at Hotel Palazzo Versace. Here is a glimpse of the celebrations.
The High Tea at Restaurant Mosaico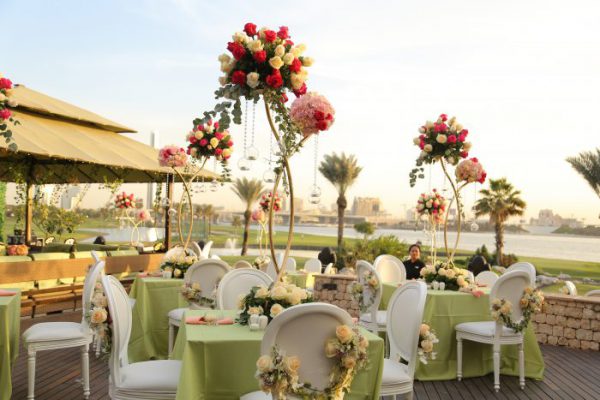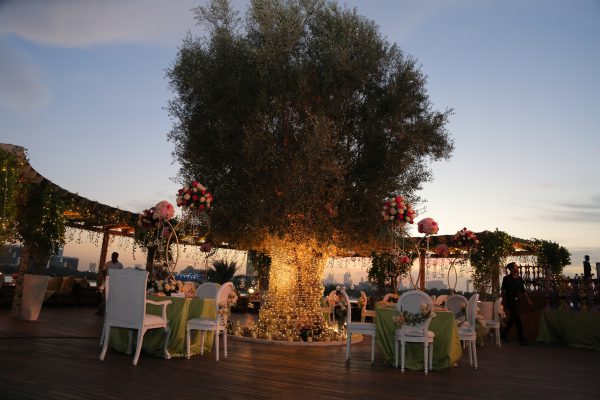 The Welcome Dinner- Lakeview Restaurant, Dubai Creek Golf & Yacht Club
Guests were transferred to the venue in luxury yachts. The decor and ambiance saw lots of greens and amber with fairy lights doing their magic!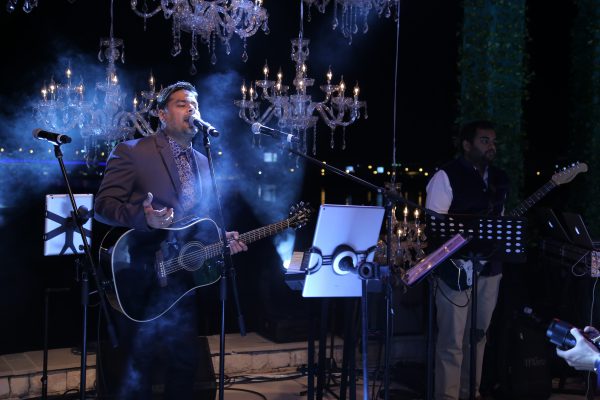 Entertainment at the event included a Coke Studio performance by Clinton Cerejo, Jonita Gandhi, Bianca Gomes and Ash King in addition to a surprise act by the waiters, a gig by an illusionist and DJ Shadow!
The Pool Party- Ischia Pool
The decor at this relaxed afternoon soiree featured lots of wood and whites with a lovely pop of orange!
The experience was complete with a stunning Swing Bar, Candy sticks, Food carts, Swan Floats and lots more.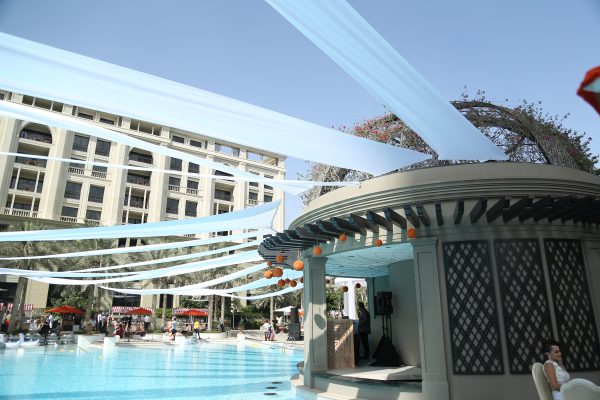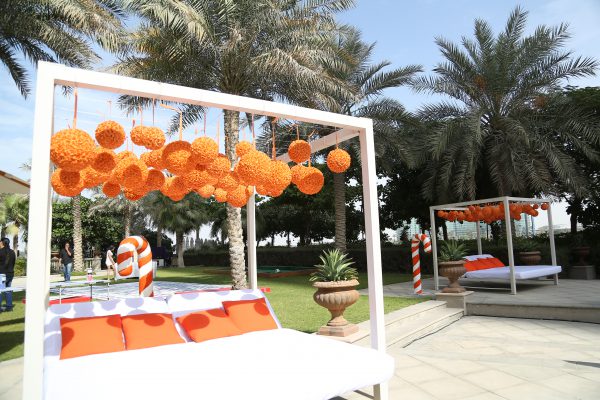 Keeping in mind the vibe of the event, life-sized games like Snook Ball, Mega Jenga, Giant Twister and Beer Pong were organized. Masseuses were also present for those looking for some relaxation.
While DJ Teri Miko & DJ Shadow did their magic with the music, bar girls served shots to keep the spirits high!
Lovely hand mist fans and hats made for the perfect giveaways.
The Arabian Sangeet- Al-Maha Luxury Desert Resort & Spa
Complete with Reds, Purples and gorgeous Golds, this spectacular Sangeet showcased Arabic tents, a bar with a tree of Moroccan lanterns and so much more!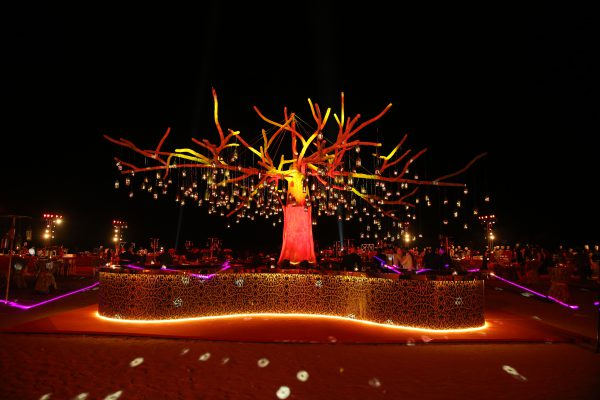 The walkway had a Handpan drummer, a sand bottle artiste, a calligraphy artiste, a falcon, a camel, a tamarind juice server and a coffee and dates server.
The entertainment was conceptualized like a Broadway show, with a Bedouin artiste, as the narrator of a love tale with Arabic acts and family performances interspersed within it. The enchanting Arabic acts were a vast array of belly dancers, tannoura dancers, fire and pixel poi artistes along with dancers dressed like desert animals.  The arena then transformed into one with lasers as the DJs took over.
However, Rahat Fateh Ali Khan totally stole the show with a mind-blowing performance.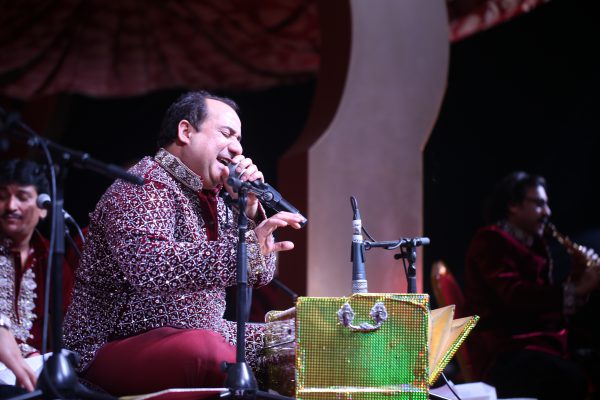 The Grand Indian Wedding
The Tel Baan at Amalfi Pool at the Hotel Palazzo Versace featured a gorgeous couple gazebo dressed in pastel hues.
The Baraat had the groom come in with style in a Porsche accompanied by dholwalas and DJ Shadow.
The Varmaala took place at Como Gardens in the hotel. The venue showcased a perfect Red & Gold colour palette accentuated by lotus flowers made of fabric.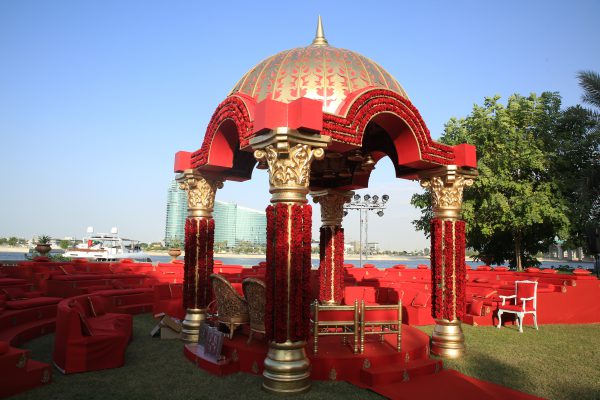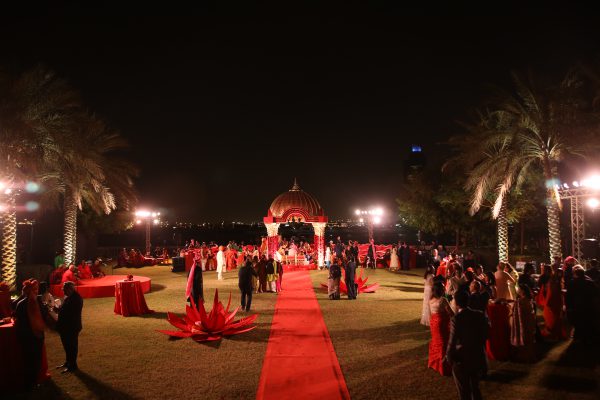 The Amphitheatre style Mandap looked stunning with chanting by monks that were specially flown in from Leh-Ladakh.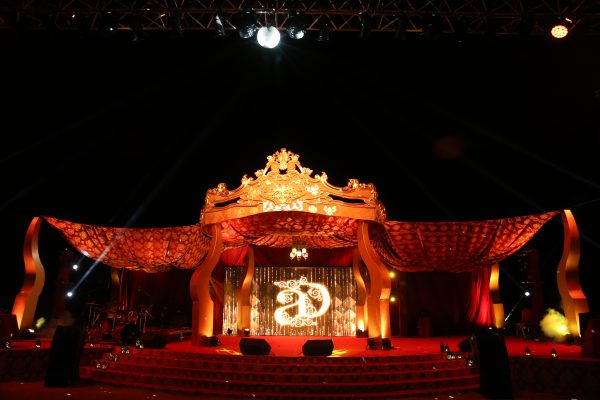 Lovely floral cones and bells were handed out to guests as giveaways.
The Technological Reception- Capri Pool, Hotel Palazzo Versace
This Technology dominated evening saw projection mapping done on the hotel façade. Décor featured European floral chandeliers, a mirror wings photobooth and lots of blue and silver hues.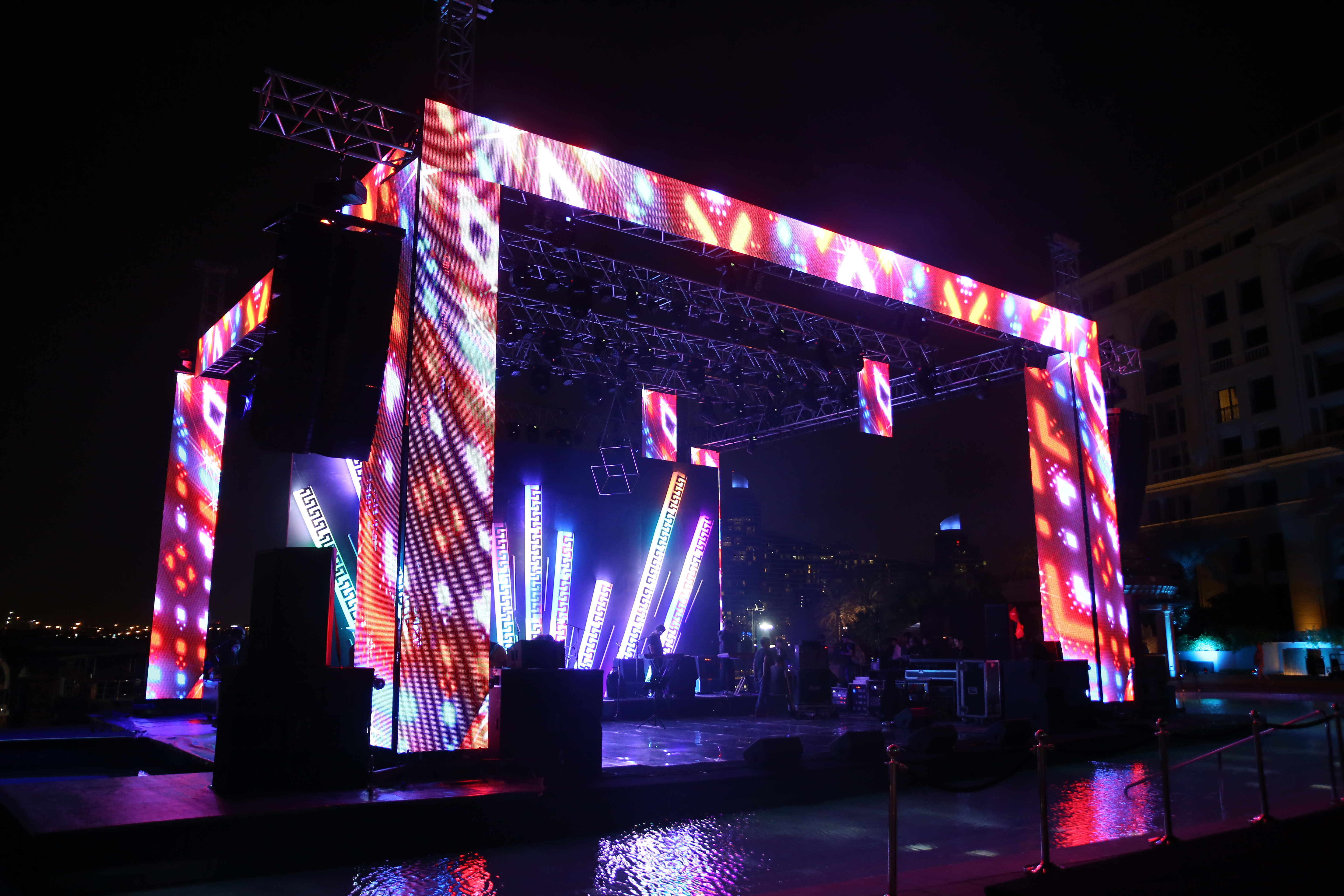 The unique entertainment design featured a Mirror man walk about, a gold cycle man walkabout, Elements of the Universe, an aerial contortionist and a water bubble acrobat! Not to mention Vishal & Shekhar who delivered a blazing performance before DJ Shadow took over.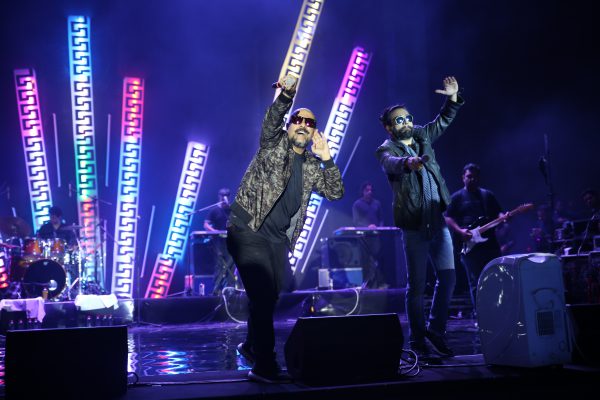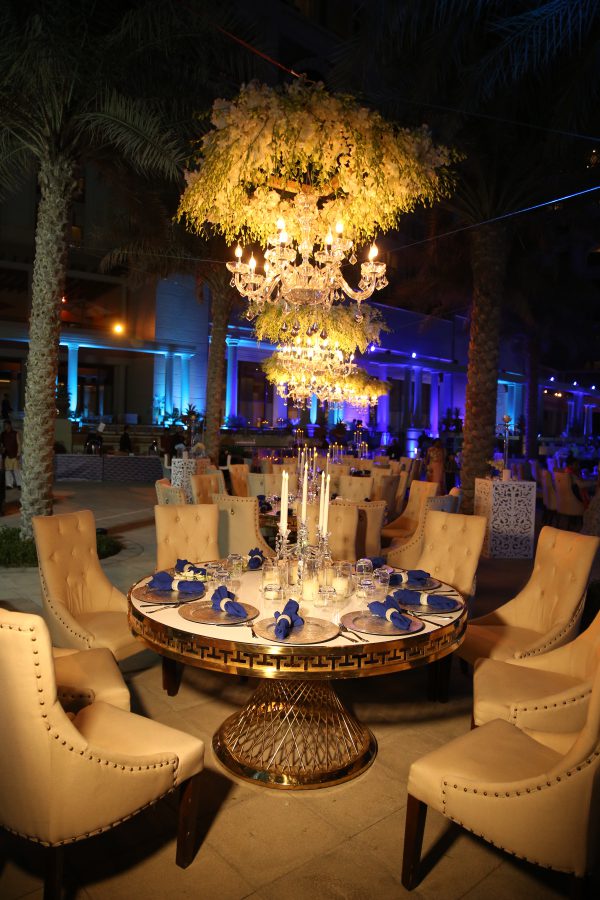 *Lead Image via youtube