Take a look at this fabulous wedding of Delhi based Vidur Mathur with New York based bride, Anjuli Pradhan. The wedding in July 2016, was a 4-day cruise down the Danube River from Passau, Germany to Vienna, Austria, and back with stops along the way!
The cruise used was MS Amadeus Silver II, which is an exhilarating experience offering the best of hospitality, catering and entertainment services for private events like this one.The fleet features a unique combination of modern elegance and comforts with 12 spacious suites, 72 staterooms, spacious public areas such as the classical 'Café Vienna' or the outdoor glass-shielded 'River Terrace' and popular Amadeus amenities such as a Panorama-Bar with lounge, Amadeus Club, Sun Deck with Lido-Bar, Fitness Room, Hair Salon and Massage Room.
On July 13, guests arrived in Munich, Germany and were transported to Passau Port (the starting point of the cruise) which is about 30 minutes from the Munich Airport.
The Welcome Dinner at The Panorama Bar
To begin the celebrations, a Welcome Dinner was hosted at The Panorama Bar. The party continued until the wee hours of the morning.
A Planned Excursion in Melk, Austria and TheMehendi
On arriving at Melk at around 9 am, a guided excursion was organized for the guests in order for them to explore the picturesque little town at leisure. It takes around 20 minutes to cross from one end of town to the other!
A Must See Spot– The massive Benedictine Abbey – a 900 year-old monastery.
At around 1 pm on the same day, the Mehendi took place.
The Wedding in Vienna, Austria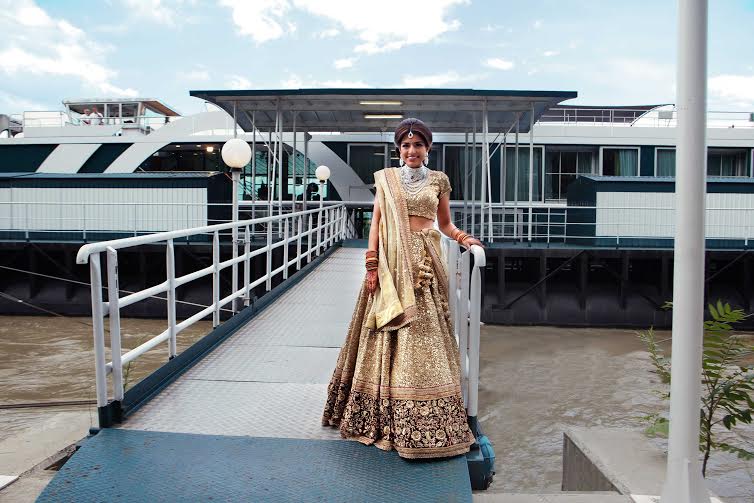 On arriving in Vienna, guests were given the choice of a City Tour or a Schonbrunn Palace Tour.
At around 6.30 pm, the wedding ceremony took place at Belvedere Palace.
A City Walk Tour in Durnstein, Austria
A City Walk Tour was organized for guests to experience Durnstein, one of the best towns in the Wachau Valley wine region.
Guests walked through the town and had glasses of wine at every local vineyard. There are over 20 vineyards, which makes this the perfect stop to sample some of the Wachau's crisp wine.